Motorline Group has officially opened the doors at its new Lexus franchised dealership in Maidstone – increasing its representation with the Japanese premium car brand.
The opening is the latest development at the Canterbury-based car retail group likely to drive a move up the annual AM100 rankings following the acquisition of two Audi dealerships in Kent from Inchcape Retail back in August, a £3 million investment to relocate its Ashford Hyundai franchised site and its planned opening of a 'Drive Now' used car Centre in January 2020.
Back in March the group also grew its presence in Reading with the opening of a new, purpose-built Nissan showroom three year's after taking on the town's franchise.
Motorline now has six Lexus dealerships, having represented the brand for a total of 29 years.
Group chairman Glen Obee, said: "We are delighted to continue our growth and investment on behalf of the Lexus brand in the Kent territory. The new class leading facilities will offer an outstanding experience for our customers."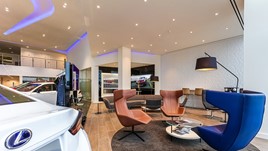 With increased focus on hybrid product, coupled with one of the highest customer retentions of any car manufacturer, Motorline said that its investment in its new Maidstonbe Lexus facility, on Bircholt Road, Maidstone, is well placed to take advantage of the growing market away from traditional powertrains.
Motorline now operates 56 centres, covering 11 brands, plus four Volkswagen Group Trade Part Specialist centres, employing over 1,850 staff.
The group was ranked 23rd on the AM100 2019 rankings with a turnover of £658,484m.
On June 25 Motorline revealed that a 15% growth in revenues to £234.8m during the period to December 31, 2018, had come alonside an 85.2% slump in profits to £597,475.
The group said higher administration costs and the reloaction of its Lexus Cardiff showroom had created an added financial burden.