Ray Chapman Motors hosted Volvo Car UK managing director Kristian Elvefors among other VIPs at the official opening of its new Volvo dealership in York this week.
The family-run franchised car retailer, which also operates a Volvo dealership in Malton, North Yorkshire, which was updated to the Volvo Retail Experience (VRE) corporate identity back in 2015, opened the doors to the new facility on Great North Way after relocating from White Rose Close.
Customers and VIPs were able to take a look around the new premises and take part in casino-themed activities at this week's event, which also saw Evefors hand a commemorative plque to the Ray Chapman team in order to mark the opening.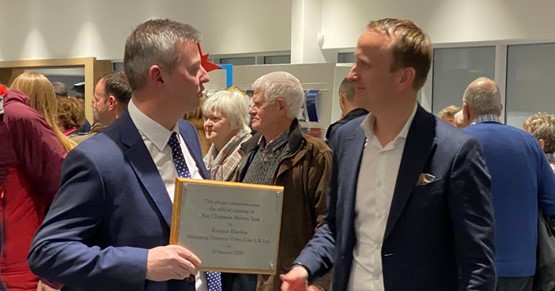 Quoted in the York Press newspaper, Duncan Chapman, dealer principal at the York Volvo facility, said: "We're pleased to have opened the doors to our new York showroom, not least because this impressive development reflects our commitment to improving customer experiences and efficiency.
"This investment isn't just about a change of furniture, it's designed to make our customers feel relaxed and at ease in an environment that provides flexible waiting, working and assessment areas.
"After the record-breaking successes of our new Volvo models this year, we felt this was the perfect time to invest in an impressive new showroom."
Panoramic glass walls enabling customers to see activity in the new workshops have been introduced to the Ray Chapman operation as part of the VRE CI, along with a n expansion of its display of Volvo Selekt Approved Used models and increased customer parking.
Volvo's new car registrations reached a 29-year high last year, finishing 2019 with 56,208 sales – up 11.7% on 2018's 50,319 - according to Society of Motor Manufacturers and Traders (SMMT) data.
The growth of the brand has helped the Ray Chapman business to grow, with turnover reaching £71.9 million (2017: £60.8m) and profits before tax £1.3m (2017: £744,364) in its financial year to December 31,2018.
Last year, as the business celebrated its 50th anniversary the 20-year-old great grandson of the company's founder, Raymond Chapman, joined the business.
Nathan Chapman became the fourth generation of the Chapman family to be involved in the family business when he joined full-time as a product specialist.
The group revealed that Nathan had transferred to an online university to continue his studies whilst working full time in Malton to launch his own online shopping website, Locavo, after completing his first year reading Business Management & Entrepreneurship at Nottingham University.
His online retail business had hosted goods produced by local, independent retailers operating in the Ryedale area and led to the delivery of almost 2,000 orders to local customers in Nathan's Locavo-branded van.
Nathan decided to turn his attention to the family business after receiving an offer to purchase Locavo.