Cazoo founder Alex Chesterman has revealed plans for "couple of dozen" Customer Centres across the UK following the opening of the online car retailer's first vehicle handover and servicing facility in Manchester today.
Speaking to AM ahead of the opening of the facility on Chester Road, Stretford, Chesterman said that adding customer-facing premises was part of a plan to bring Cazoo closer to its customers and expand a distribution network initially established with its Corby operations centre and 10 further distribution locations across the UK.
And he insisted that the move "does not constitute a u-turn" on physical sales.
Following the July acquisition of Imperial Cars car supermarket Chesterman confirmed that other retail locations had been acquired separately – including the new Manchester site, a former Swansway Honda location – as part of a plan to have 16 locations open by the end of the year.
Around a dozen of those sites will be accounted for by re-openings of the 16-site Imperial Cars supermarket network under Cazoo branding.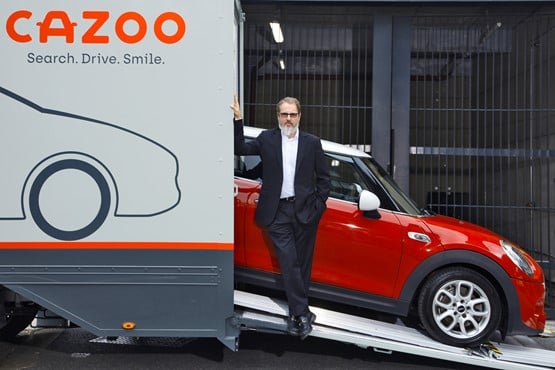 Chesterman described the move as a "natural evolution" of the business which would allow it to provide a vehicle collection offering to customers as well as aftersales service while improving its storage capacity and distribution channels.
"I think many of those who have questioned our strategy – have tried to say that we have made some kind of u-turn by acquiring Imperial and opening physical locations – fundamentally misunderstand our offering and e-commerce logistics in general," Chesterman told AM, six months after a full dealer profile featured in the magazine.
"We don't have a magic wand that makes cars arrive on our customers' driveways.
"We are no different to Amazon or Ocado in that we have to have a physical distribution network. Both have physical storage and distribution across the UK.
"From day one we have operated from the central operation centre at Corby and 10 distribution locations across the UK and this is an extension of that, allowing us to get closer to our customers.
"There's been no change in our strategy, it's been a totally natural evolution for us."
Commenting on today's official opening of the Cazoo Customer Centre in Manchester, former Imperial Cars director, now Cazoo retail director, Neil Smith, said: "We have been delighted by the overwhelmingly positive response of consumers to our online car buying proposition.
"With our ever-increasing number of sales, our new Customer Centres will provide our customers with more choice around how they want to receive their Cazoo car and allow us to serve them better through our own Service Centres.
"We're excited to be opening in Manchester as we reinvent the car buying experience and continue our mission to provide better selection, transparency, convenience and peace of mind to used car buyers across the UK."
Wholly online sales
Chesterman said that customers would not be able to buy a car from a Customer Centre, stating that sales will continue to be conducted wholly online.
Cazoo's car buyers will be able to opt for a two-hour delivery slot or one-hour collection slot from a Customer Centre following the opening of the regional facilities, which Chesterman hopes will reduce the average distance to a customer from its current 70-to-80 miles to around 30 miles.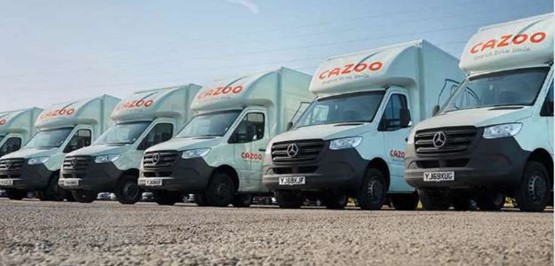 Other locations opening in the coming weeks will include Wembley, Bristol and Cardiff.
In time, Chesterman said that Cazoo would go from operating 10 distribution centres to something like two dozen, with locations determined by geography and demand.
Chesterman said that Cazoo currently employs around 500 staff and expected to employ around 700 by the end of the year, with a fleet of around 80 delivery vehicles set to double by Christmas.
He insisted that establishing the business' customer-facing physical presence would not affect its ongoing vehicle preparation and logistics agreement with BCA, with whom it has the ability to store up to 6,000 vehicles in Corby.
Rising to the challenge
But BCA is not the business's only source of stock and keeping up with demand was proving a challenge, according to Chesterman.
The business had a stock of 2,500 vehicle in June, he said, but this had fallen to less than 1,500 in recent weeks after preparation centres were closed for eight weeks during the COVID-19 lockdown - stalling its flow of vehicles.
Chesterman said: "From a preparation perspective, we have struggled to keep up with demand. The challenge is simple, we have to source and prepare cars faster than we're selling them and I'd like to think we could get to 4,000 or 5,000 vehicles in stock by the end of the year."
Every Cazoo car comes with a full seven-day money back guarantee and a 90-day warranty and Chesterman said that a "significant amount" was invested in vehicle preparation, highlighting a 4.8-out-of-five Trustpilot rating as evidence of the resulting customer satisfaction.
Continued growth and customer satisfaction is on the horizon for Cazoo, according to Chesterman, who remains unwavering in his assertion that the digital transformations he has seen with previous start-ups Zoopla and LoveFiLM will be replicated in car sales.
He said: "I've been going into indutsries for years where people said 'what does he know about this?'
"Ultimately, I'm a customer and I can see the transparency and simplicity that online retail can bring.
"There will always be people who want to buy online and those who don't but this is a huge market.
"Being a truly digital player, we have the whole UK territory to aim at – that's the nature of the business – so the potential is huge."