Cambria Automobiles were given an opportunity to discuss the challenges facing the automotive retail sector with the Secretary of State for Transport, the Rt Hon Grant Shapps, during a recent showroom visit.
Shapps visited the AM100 PLC's Hatfield car retail site – which includes Aston Martin, Jaguar Land Rover (JLR) and McLaren Automotive dealerships – alongside the Secretary of State for Northern Ireland, the Rt Hon Brandon Lewis CBE, on Friday (October 9).
Group chief executive Mark Lavery, who has spoken out about the push towards electric vehicles (EV) during 2020, said that he was "grateful" for the chance to speak with the senior Government ministers.
He said: "We were grateful for the opportunity to have an open dialogue with two senior members of the Cabinet, to hear about the government's plans surrounding mobility more broadly and to be able to share some of the challenges that the automotive sector faces relating to more stringent emissions targets and Brexit."
Last month Cambria announced that it was embarking on series of cost-cutting measures which will include a "significant reduction" in employee headcount due to the impact of COVID-19 lockdown.
A trading update said that, while trading had been ahead of management expectations post-lockdown, a slower order bank for September and triggered caution about Q4.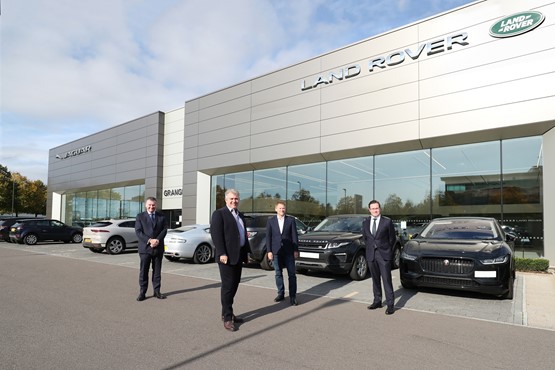 During their visit, Shapps and Lewis were given a tour of the 4.3-acre Hatfield site, which welcomed the opening of new Aston Martin and McLaren showroom sites in May last year.
Back in August AM reported that was urging his car retail colleagues to lobby Government over an all-out push to Electric Vehicles (EV) which risks catching UK automotive "sleeping at the wheel".
Lavery said that there was still time to prevent Government making a decision which would see an all-out ban on internal combustion engine (ICE) and hybrid vehicles as early as 2032, risking both the environment and "thousands" of industry jobs.
After their tour last Friday, Lavery addressed both Shapps and Lewis, raising a number of topics, ranging from the government's consultation on the timeline for the proposed ban of internal combustion engines (ICE), to the total lifecycle costs associated with the manufacturing of EVs, new emissions regulations and some of the challenges surrounding mobility heading towards Net Zero.
Lavery reiterated Cambria's position that hybrid vehicles, clean hydrogen and synthetic based fuel technologies must all feature in a balanced transition to replacing ICEs.
Speaking to AM in August, Lavery said: "At the moment, as an industry, we are sleeping at the wheel as the environmental lobbying groups dictate an all-out push for EVs at the exclusion of any other solution," Lavery told AM in an interview this morning.
"The millions of tonnes of Cobalt that are being pulled out the ground in Africa, the Amnesty International investigation into child slavery in those mining processes, the fact that the Cobalt is shipped to China to be processed and turned into batteries in a coal-powered economy only to be shipped to developed Western countries so we can have zero tailpipe emissions in our towns and cities… All that seems to be overlooked in the pursuit of this one solution."