TrustFord is poised to expand its Ford Quick Lane tyre and service aftersales fast-fit centre network with the opening of a £400,000 facility in Gorton, Greater Manchester.
Set to open a week today, on October 26, the new site is the third standalone Quick Lane site to be opened by the Ford of Britain-owned AM100 car retail group, following the launch of facilities in Prestwich, Greater Manchester, and Colchester.
TrustFord's latest addition delivers more than 4,000sq-ft of space and will bring six new jobs to the area, adding to the 107 roles the group is currently looking to fill across the UK.
Stuart Foulds, the group's chairman and chief executive, said: "At TrustFord, we're committed to driving the standard in customer care.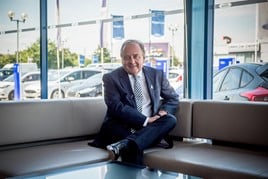 "We know that efficiency and convenience are crucial for our customers, so we continue to invest across our network to ensure the efficient delivery of vehicles and servicing.
"Gorton will give us additional scale and resource to meet our customers' servicing needs for all makes- and not just Ford- for both car and commercial vehicles, and help our colleagues deliver the excellent service that they're known for."
Ford's Quick Lane franchise concept was borne out of consumer research into motorists' needs from automotive repair centres.
Drivers cited transparency, convenience, confidence and a stress-free environment as their key priorities. This created the Quick Lane ethos: to provide 'convenience with confidence.'
TrustFord announced its plan to spearhead the network's UK roll-out, alongside the OEM's PartsPlus aftermarket parts retail network, at its 2018 annual conference, in Daventry.
David Alexander, the chief executive of Quick Lane Europe, said: "We're taking away the inconvenience of vehicle repair by offering a rapid service that fits around the busy lives of today's consumers.
"Our focus is on being brilliant at the basics and providing local motorists with transparency, convenience and confidence and this will be reflected in our new Gorton site.
"I am delighted that TrustFord has committed to another franchise operation and look forward to extending our partnership further with this exciting new site."
Earlier this month TrustFord revealed that it was preparing to launch a new store concept and aftersales openings after celebrating "stunning performance" to carry momentum from its COVID-19 comeback into Q3.
Foulds said that he was "delighted" that the business could celebrate an outstanding result for the quarter after pre-tax profits rose by £5m year-on-year as it delivered 20,000 new vehicle sales between June and August.
"I am also excited that we will also be opening the first of our first pop-up, SmartHub concept stores, at junction 32, M62 later in the month," he revealed.
"We have many more initiatives in development for the remainder of 2020 flowing into 2021 to continue and maintain TrustFord's position as one of the leading groups in the UK."