The Peter Vardy Group has introduced chalets at its Motherwell branch and its Glasgow CarStore to allow customers to discuss their purchase outdoors during the COVID-19 crisis.
The Glasgow-based AM100 car retail group's chalets feature open air seating areas with patio heaters and an interior space with wide doors which can be kept open in line with COVID-19 best practice.
In June, the group introduced a 'Two-Metre Greeter' role to its car showrooms in Scotland as part of a £100,000 COVID-19 protection package.
Peter Vardy, group chief executive, said: "Ever since COVID-19 struck at the beginning of the year, our first and over-riding priority has been the safety and security of our valued guests and our colleagues.
"Since both our dealership in Motherwell and the CarStore beside the M8 at Hillington in Glasgow fell into Tier 4, we came up with the idea of the chalets to allow our guests to continue to enjoy Scotland's best car-buying experience."
Vardy, who also owns the SilverBullet online retail platform, told AM that over 2,000 car sales were completed entirely online during the lockdown months of April and May.
In September last year, Peter Vardy revealed that it expects to complete 50% of its car sales online by 2023 after crediting a focus on used car sales and aftersales for profit growth in its 2018 financial results.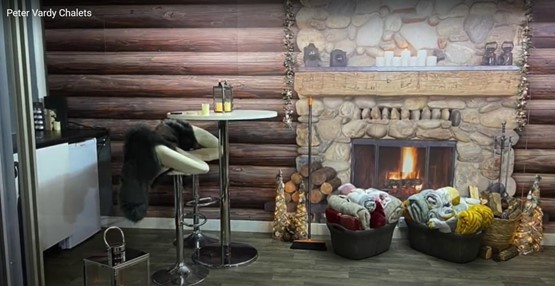 The chalets also incorporate a Christmas theme.
Karyn Kennedy, marketing manager at the Peter Vardy Group, said: "The chalets were inspired by the new glamping – that's glamorous camping – offering at Gleneagles, Scotland's premier resort hotel.
"Peter Vardy guests can always expect the most comfortable of welcomes, and they can now enjoy their experience in a safe, clean, outdoor way."
Peter Vardy Group, which has 12 franchise dealerships and two CarStores, said it is exceeding pre-Coronavirus sales.