Sytner Group has officially begun trading from Ferrari's first new UK franchise point for 15 years ahead of the opening of a new Glasgow showroom in Q1 next year.
Initially operating from a temporary retail point close to the M8 and Glasgow Airport, on Braille Crescent, Renfrew, the creation of the new supercar sales site means that the top AM100 group now has Graypaul Ferrari dealerships in both Edinburgh and Glasgow.
Sitting in a location that was previously the home of Glasgow's Infiniti showroom is Sytner's fifth Ferrari dealership.
When work is completed at the site, it will feature a 10-car showroom to accommodate the Italian supercar make's latest models, including the Ferrari Roma and hybrid-powered SF90 Stradale.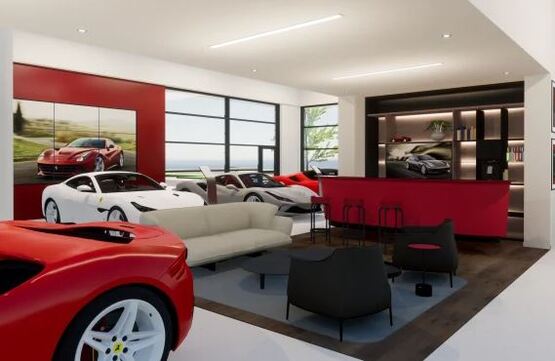 A Ferrari Approved element to the operaton will also stock cars up to 15-years-old, all of which are sold with a two-year factory warranty.
Dominic Bell, Sytner's new head of business at Graypaul Glasgow, also leads the existing Ferrari dealership in Edinburgh.
He said: "This is an incredibly exciting time for the iconic Ferrari brand and we are privileged to be bringing the world's foremost luxury sports car manufacturer to the city of Glasgow.
"In advance of our official showroom launch, I was delighted to open the doors of our Marketing Suite last night and look forward welcoming both new and long-standing customers and Ferrari fans to Graypaul Glasgow."
Francesco Balli, regional manager for Ferrari North Europe, said: "The UK remains one of the most important markets for Ferrari, and we are delighted to announce the expansion of the dealer network into Scotland.
"We know there are many passionate clients and fans in Scotland, and we look forward to welcoming them to our new home in Glasgow – from where we are sure many a memorable road trip into the Highlands will begin."
Earlier this year Sytner opened the doors to its first standalone Graypaul Maserati dealership in a move which officially separated the brand from Ferrari in Birmingham.
The move was one of a number of developments in the Ferrari network in recent months, including JCT600's opening of a new £9 million dealership facility in Leeds, following its development of a new service centre business in Newcastle, and Jardine Motors new aftersales site in Sevenoaks, Kent..