The Government's Minister for Skills, Alex Burghart MP, has congratulated Stoneacre Motor Group after its Stoneacre Academy secured outstanding status following its first-ever Ofsted inspection.
In a written acknowledgement of the achievement of the £1 billion turnover AM100 car retail group's work to attract and train young apprentices – and develop its existing staff – Burghart described the business as "a powerful example to other further education providers".
He added: "I realise how demanding your role is, even more so, during these challenging times and, if you are not already doing so, I would like to encourage you to play a part in sharing your knowledge and experience wherever you can to help others achieve the same high standard."
Stoneacre founded its Academy in 2015 after group academy manager, Claire Perkins, was recruited to establish a sector-leading educational facility.
It was officially launched as an apprenticeship scheme in 2017, immediately scooping that year's AM Awards Best Training and Development Programme accolade.
Following the mantra 'Career for Life' – a play on the company slogan 'Motoring for Life' – the Academy makes use of experienced managers from across the group to ensure the delivery of practical training.
Between 80 and 150 apprentices are trained the Academy each year, with Stoneacre claiming that 95% of graduates go on to gain full-time work within the business.
Ofsted inspectors visited the Thorne-based training site between July 20 to 23 this year and gave a glowing verdict of the work it is doing after assessing how well the team was delivering its apprenticeship schemes to its students.
Among their observations, inspectors noted that apprentices were also able to demonstrate their enjoyment for working at Stoneacre whilst wearing their uniform with pride, and were proud to completely encapsulate the values of the organisation.
Commenting on the response of inspectors and the Minister for Skills, Perkins said: "The most worthwhile aspect is changing apprentices' lives. It was a rewarding feeling for me as a manager when Ofsted rang our apprentices to give them great feedback, then rang their managers to congratulate them on the success of their managerial skills.
"I am so proud of all our apprentices, employers and my team for the huge role they played in our Ofsted report."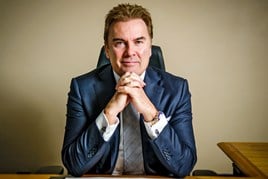 Stoneacre Motor Group managing director, Shaun Foweather, who discussed the creation of the Academy and its guiding principles in a group profile interview with AM, said: "I am exceptionally proud of what the Academy and Claire has achieved.
"The Academy strives to be industry-leading, even through difficult times such as the pandemic.
"The staff have redeveloped and built the Academy to ensure our apprentices continue to receive fantastic training.
"We know that today's apprentices are our future managers. We're investing in our future as much as theirs. Our apprentices are bright, vibrant and best placed to change our business from a different perspective."
As well as conducting vital outreach work to attract young school and college-leavers into the automotive sector, Stoneacre's Academy places a strong emphasis on gaining the buy-in of its apprentices' parents.
Families are invited into the business ahead of the start of an apprenticeship course and each successful cohort is celebrated at an official graduation evening at the group's headquarters in Thorne, near Doncaster.
The group said that it has invested more than £3 million in its Academy over the past six years.
In 2018, it added new Technical Training Facilities at its Goole FordStore, at a cost of £850,000.
Outlining the importance of the Academy in the group's recruitment and succession strategy, Foweather said at the time: "Our ongoing succession plan ensures that senior positions are filled from within the business, we never stop any individual from taking the next step in their career, and this means that there is always someone else trained to take the next vacant position in the group."