Bristol Street Motors has joined Co-Op Live as a founding partner of the new 23,500-capacity arena opening in Manchester in 2023.
The Vertu Motors division is the latest brand to become a founding partner, joining a group led by Co-Op as the naming rights partner, in the project to create a new entertainment experience.
The partnership will see Bristol Street Motors as the official motor retailer and auto partner for the venue, with exclusive naming rights to a 4,000-capacity space inside Co-op Live known as 'The Street'.
The space will have a 22m long bar, food market and the largest point of entry to Co-op Live. The Street will be able to host events beyond those hosted in the main bowl.
As well as having branding and marketing rights in The Street, the AM100 group will be able to showcase vehicles and use the space for its own events.
The partnership will also see retail group supporting Co-op Live's charitable foundation with an annual donation.
Bristol Street Motors have also agreed to provide several co-branded electric vehicles (EVs) for use by artists, guests, and executive staff to serve the venue's transportation needs sustainably.
The arena itself will use electricity for everything from air-source heat pumps for heating and domestic hot water through to cooling and catering.
Vertu Motors chief executive, Robert Forrester, said: "As the nation's first all-electric arena, we're thrilled that Bristol Street Motors is a founding partner of Co-op Live, especially as the electric vehicle market continues to grow.
"It's fantastic that the electric vehicles we'll be supplying will help facilitate the arena's sustainable day-to-day activity, working towards building a planet-friendly venue as well as one capable of hosting the world's best events.
"This extensive partnership allows Bristol Street Motors to work with the arena and its sustainability vision, particularly as we move towards the EV era and providing our future customers with the very best expertise, advice and support when they come to purchase one."
Vertu Motors' marketing partnership with the new Manchester arena is the latest in a series of deals designed to increase brand awareness.
It recently become the 'Official Car Retailer' of North East football teams Middlesborough FC and Sunderland AFC for the remainder of the current season.
In Scotland, its Macklin Motors division has partnerships with Hibernian FC, Heart of Midlothian FC and is a Community Partner of Celtic FC.
Earlier this year, Vertu announced the acquisition of the naming rights to the Eagles Community Arena in Newcastle, the car retail group also sponsors Channel 4's Formula One coverage, and Macklin Motors struck up sponsorship deals with Durham and Yorkshire County Cricket teams.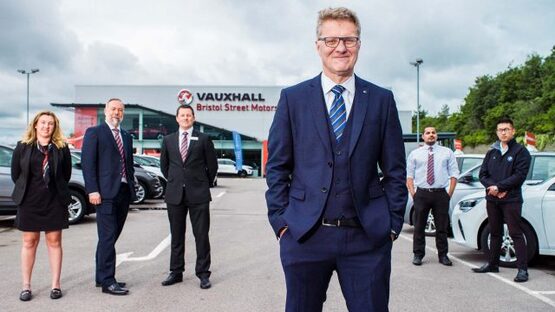 In an interview with AM earlier this year, Forrester told AM that the business would continue to drive a "big brand" profile after adding 30 car retail outlets in 15 months.
Forrester, who starred in ITV's Undercover Big Boss series in a bid to raise awareness of Bristol Street Motors earlier this year, told AM: "Our high-profile marketing is here to stay. If you're going to be successful, you're going to have to have big brands.
"Take Coca-Cola, for example. Why do you still see them on television? In terms of building a profile, it doesn't stop."