DM Keith's Grimsby Seat dealership was named as the Spanish brand's Retailer of the Year on the way to an awards double.
The Leeds-based AM100 car retail group – profiled by AM in last year's AM100 insight report – finished first for 'Overall Top Performance' in 2021, beating Listers Seat Worcester and Letchworth Autoway Centre to the title.
The Grimsby dealership was recognised for its cross-channel sales figures, staff development values and customer satisfaction ratings, receiving its award ahead of a virtual Retailer of the Year awards event last week.
Aaron Carter, dealer principal at DM Keith Grimsby, said: "This is a great achievement for the whole team and testament to all the hard work, dedication and commitment the staff put into their work every single day.
"At DM Keith we believe that if you value your staff and customers then success will always follow, and this award is proof that it works."

DM Keith Seat Grimsby also received Seat's Used Vehicle Top Performance accolade in this years awards as Dales Seat Scorrier received the award for New Vehicle Top Performance and SMC Seat Woking claimed the Aftersales Top Performance award.
AM reported today (March 15) that Fife Seat was named as the Cupra UK brand's top retailer at the same awards event.
Earlier this month DM Keith managing director Dougal Keith joined other retail group bosses in sharing his views on his business's position as it headed into the traditionally buoyant March numberplate change period as ongoing vehicle supply issues continued to stymie the sector's volume recovery.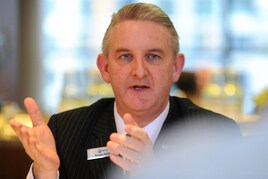 Keith said: "The mood is good, despite the headwinds around supply. We have had a fabulous economic wind blowing us along recently, but we can see more headwinds than tailwinds in the future.
"That said, right now the order bank is very healthy along with overall profit per unit being sustainably ahead of previous years."
Keith said that used cars – an area picked out as one of Grimsby Seat's strong points, remained an area of opportunity for his business.
"The biggest opportunity is still around used cars, this is what we can affect in the month," he said.
"The market is still strong despite a slight weakening in demand, we have increased the age profile of used cars and we are retailing cars that we would have previously disposed of, this is a brilliant opportunity for our aftersales departments, and the customer retention period on the older profile cars is a lot lower so presents a better opportunity for us down the line."