Beechwood Motor Group's Derby dealership has been named as Mazda UK's retailer of the year after topping the Japanese car maker's annual Dealer League rankings.
The business, a Mazda franchise since September 2013, topped the leaderboard in the national Mazda Dealer League, which assesses overall dealership performance, customer loyalty and customer satisfaction levels for both sales and service across the year.
Beechwood Mazda managing director, Rob Wood, said: "We feel incredibly proud to have won the Mazda UK Dealer of the Year award and I would like to thank and dedicate this award to the phenomenal staff we have here at Beechwood.
"We were very lucky to have been chosen as the Mazda franchise for Derby in 2013 and the continued support from Mazda UK is fantastic."
He added: "Our aim is to continue to build on this success by offering outstanding service to our customers and maintaining the passion, drive and enthusiasm for Mazda found throughout our business.
"However, most importantly of all, I'd like to thank our loyal customers, many of whom have become friends, as they are instrumental in the success of Beechwood Mazda."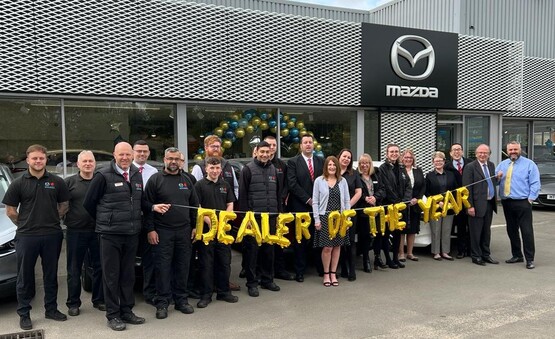 Beechwood Mazda, on Siddal Road, Derby, employs 35 team members with an average length of service of over 12 years.
Some employees have been with the business since it was founded in 1986.
They will have seen significant change within the brand in recent years.
As well as pioneering home test drives well before COVID-19 lockdowns, the brand is now making its shift into electrification following the launch of its first pure electric vehicle (EV), the MX-30 crossover, in 2020.
This year retailers will benefit from sales of the new Mazda 2 hybrid hatchback, created in partnership with Toyota, and a new CX-60 plug-in hybrid (PHEV) SUV.
Commenting on the results of the Mazda Dealer League 2021/2022, Mazda UK sales director Peter Allibon said: "Congratulations to the team at Beechwood Mazda for finishing as our number one Mazda dealer in the network; it's a fantastic achievement and a testament to how delivering a great customer experience is at the heart of everything they do, plus Beechwood Mazda's industry awards from titles like Motor Trader also speaks for itself."
He added: "Our dedicated dealer network plays an instrumental role in the achievements of the brand in the UK.
"I can't thank the network enough, particularly our top performing dealers such as Beechwood Mazda for their continued hard work, commitment and passion for Mazda."