Eastbourne MG has taken car sales to the 'high street' with its relocation into the coastal town's Langley Shopping Centre.
Far from being a pop-up-store, the new facility – situated between the centre's Tesco supermarket and a Domino's Pizza – offers a full sales showroom, aftersales service support and a used car forecourt, following official opening on Saturday (May 14).
Eastbourne MG, formerly Seaford MG, left its traditional roadside operation to occupy its new location on Kingfisher Drive, Eastbourne, in a move that allows customers to choose their next vehicle while picking up their weekly shop.
Eastbourne MG sales director Ben Smith said: "We opened our MG franchise at our old Seaford site in 2015 and outgrew it virtually straight away.
"From day one, the franchise took off in such a way that we knew we would have to find somewhere bigger to keep up."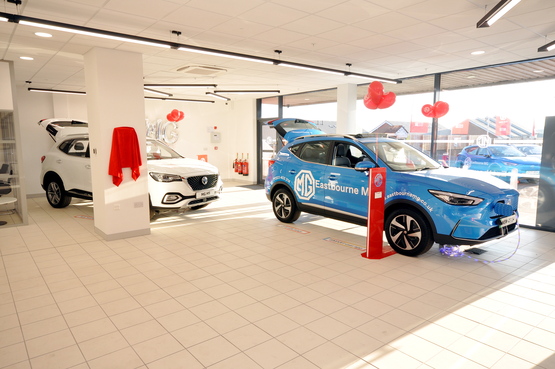 He added: "It may seem like an unusual step for us to relocate to a shopping mall in this way, but the new space is absolutely perfect for us.
"It's showcasing the brand to people who might otherwise not come into contact with it and the range of shops, restaurants and facilities on site means it's much more convenient for customers."
MG Motor UK operations director Guy Pigounakis said: "We're thrilled to have a new site opening in Eastbourne, strengthening our growing network on the South Coast, but we're especially delighted to see one of our dealers innovating in this way with its location.
"MG is a people's brand boasting an exciting range of models that combine exceptional quality, state-of-the-art technology and the reassurance of a seven-year warranty across the board, with outstanding value for money.
"Anything a dealer can do to bring our brand to the people, such as opening a showroom where people work, play and shop, has to be welcome."
MG Motor UK continues to claim the title of being the UK's fastest-growing mainstream car brand.
According to Society of Motor Manufacturers and Traders (SMMT) data, the brand's registrations rose 124.6% year-on-year in Q1.
MG grew its UK retail network with the addition of 40 new dealers in 2021 as its registrations swelled by 66.2% (to 30,600) after adding the flagship HS SUV and MG5 SW electric estate car to its line-up.
Back in March Am reported that the brand had been forced to tell its franchised car retailers to stop taking orders for new petrol vehicles after "unprecedented demand" saw it fill its 2022 sales quota by the end of February.