Cazoo plans to close sites and axe jobs in the UK as part of a 'Revised 2023 plan' following its 2022 exit from used car markets on the European mainland.
The online used car retailer announced its intention to "rationalise our operational footprint" and introduce a new chief executive in a leadership reshuffle as it published its fourth quarter 2022 preliminary financial results this morning (January 19).
Cazoo revealed that it intends to retail 40,000 to 50,000 used car this year as part of a bid to focus on fast-moving and high margin stock as part of its bid to achieve profitability after delivering 17,750 sales in Q4 (up over 100% YoY) and 65,000 in 2022 as a whole – down on its earlier 100,000 unit target.
Detail how the lower volume target will come alongside cuts to its UK operations, Cazoo said: "In the current economic environment we believe the right course of action for 2023 is to focus on further improving our unit economics, reducing our fixed cost base and maximising our cash runway.
"To enable these improvements, we are resetting our 2023 top line ambitions to 40,000 to 50,000 UK retail units, allowing us to focus on higher margin and faster moving inventory and to rationalise our operational footprint.
"In line with the lower unit expectations for 2023 and the current economic climate, we will be making our operational and logistics networks more efficient through the closure of certain of our vehicle preparation centre and customer centre facilities and making further headcount reductions."
In June last year AM reported that Cazoo would begin its UK jobs cuts with the closure of a vehicle preparation centre acquired from SMH Fleet Solutions in September 2021.
Cazoo said that it expects to return to growth in 2024 following implementation of its revised plan, which will be detailed in its 2022 results statement.
The business is also planning to undertake a share consolidation exercise to reduce the number of shares outstanding and bring its share price back into compliance with New York Stock Exchange (NYSE) rules which require listed companies to maintain an average closing share price of at least $1 over a consecutive 30 trading-day period.
Its shares have remained below $1 since July 14, 2022, except for July 23 when they reached $1.01 and August 2 and 3, when their value reached $1.01 and $1.03, respectively.
Earlier this month AM reported that the NYSE had begun the process of de-listing warrants for online car retailer Cazoo as a result of "abnormally low" price levels.
2022 results
Today's trading update indicated that Cazoo's revenues had risen from £668 million in 2021 to £1.25bn, but there was no mention of the business' losses.
Gross profit per unit rose from £427 in 2021 to £600 in Q4, with the Cazoo claiming continuous improvement every quarter during 2022.
It added that there would be no need for the business to raise additional capital in the next 18 to 24 months, adding that it had ended 2022 with a balance sheet of over £250m of cash & cash equivalents on hand.
Cazoo said that its withdrawal from European market was going as plan and ahead of budget, meanwhile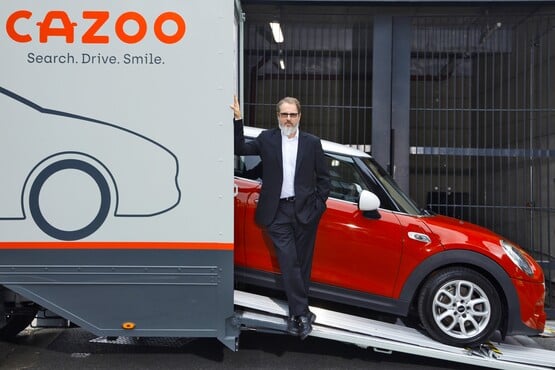 It successfully disposed of its Italian and Spanish operations, while its French and German operations will be "largely wound down with exception of subscription operations", it said.
Cazoo founder and chief executive Alex Chesterman said that he was "pleased" with the business' Q4 progress and the delivery of a 100,000 sales milestone across three years of trading.
He added: "Whilst 2022 was a challenging year in many respects, our continued strong growth, notable improvement in unit economics during each quarter and market-leading consumer feedback gives us strong confidence in the long-term opportunity for Cazoo."
Leadership changes
Cazoo will split its executive chairman and chief executive roles as part of a number of leadership changes announced today, with Chesterman becoming executive chairman and chief operating officer Paul Whitehead becoming CEO.
It said this would allow Chesterman to focus on the strategic direction of the company with Whitehead focussed on day-to-day operations.
From the end of January David Hobbs will step down from Cazoo's board, meanwhile, as Mary Reilly joins as a Class I director
Reilly will be as a member of the nominating and corporate governance committee and the audit committee and chair of the audit committee following completion of the 2022 audit.
She is currently a board member and audit chair of companies including MITIE Plc, Essentra Plc and Mar Holdco Sarl and was formerly a main board director of the Department of Transport (DfT).