Dealers that sell cars from prestige brands are more likely to get referrals from car maker websites, according to JudgeService.
The JudgeService Industry Report September 2021, which polled the views of 73,778 car buyers, identifies the online role played by each car brand in appealing to the loyalty of existing customers and the aspirations of new ones.
Prestige brand websites were the strongest performers, especially the German marques, led by Audi with 12.8% of its customers saying they visited the brand's website first before being referred to one of its dealers.
Other upmarket brands in the top 10 included BMW (12%) followed by Mini (11.4%), Volkswagen (10.9%), Volvo (9.5%), Mercedes-Benz (8.9.%) and Jaguar (8%).
"Our research reveals buyers of prestige brand cars are the most likely to choose the badge before finding the car itself," said Neil Addley, managing director of JudgeService.
"For them brand equity or loyalty are vital considerations. They may aspire to own one of the brand's cars, currently own one, or they've had a good experience in the past and therefore associate it with good product quality. Consequently, for many of these buyers the dealership they purchase from is almost a secondary consideration," he added.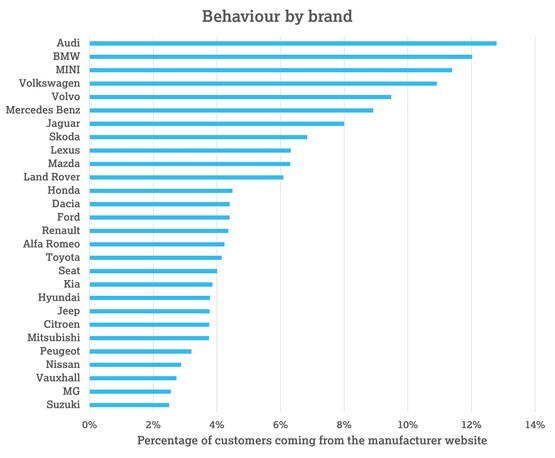 Carmaker websites were less important for customers of volume brands, with Ford, the UK's biggest seller of new and used cars, first online port of call for only 4.4% of its buyers.
"Volume brand dealers have much less traffic coming from manufacturer websites as it's likely their customers had little existing brand preference before they found the car they wanted to purchase.
"These buyers are more likely to settle for a good value car with the features they require, rather than sticking to a brand they know or opting for a brand with a perceived status," said Addley.
Nearly a third (31%) of all buyers said they found the car they eventually bought on a website, according to JudgeService's research, highlighting the importance of online marketplaces.