A specially-built drone has delivered a fly-through view of Snows Motor Group's Lexus Hedge End car dealership as part of a bid to share the dealership experience with prospective customers.
The tiny custom-made drone – just large enough to carry a GoPro Hero 8 high-definition camera – swooped into the dealership and through cars to create a single-take immersive tour of the facility on Botley Road, Hedge End, Southampton.
Drone operator Sam Butcher, a specialist in First-Person View (FPV) flight spent two weeks carrying out risk assessments and planning his route through the building, which included difficult transitions through narrow apertures, elevations and different atmospheric conditions.
Butcher said: "The most difficult part of the shoot was when it was really windy and we had to fly over the cars parked outside and through a very narrow doorway.
"The transition between fighting the wind and then moving into a static environment while maintaining smooth footage was definitely the biggest challenge."
Lexus Hedge End remained open throughout the filming but the business said that the timing of the drone's efforts were carefully choreographed to ensure the safety of customers.
A 'making of' video gives an insight into the efforts that went it to creating the short film.
Butcher wore special goggles, similar to a virtual reality headset, to film the footage.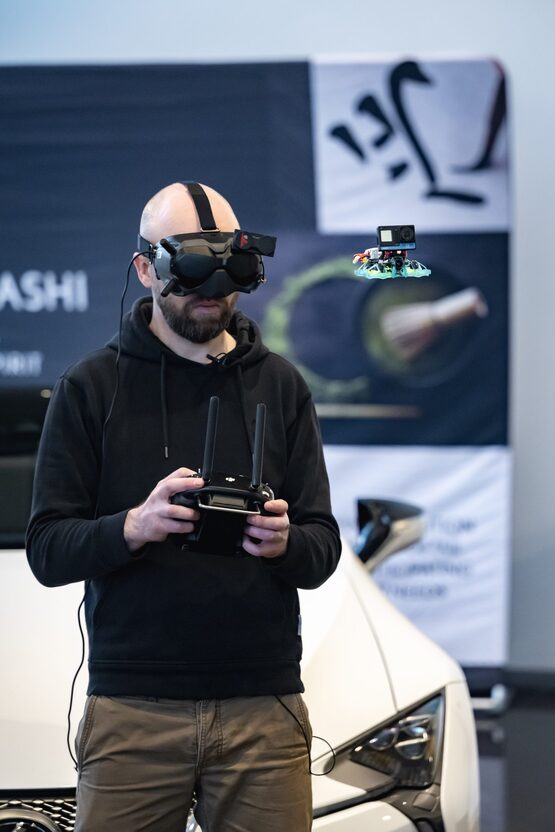 The goggles block out all other vision and generate the same first-person view that the camera sees, allowing him to carry out accurate manoeuvres such as accurately threading the drone diagonally through the front and rear windows of a Lexus IS car on the showroom's mezzanine level.
Butcher said: "My favourite part of the film is the sequence where it moves from low down, over the mezzanine floor and then above the car on the lift and through to the used car area."
Snows Motor Group marketing manager Paul Wilde was so impressed with the process and the resulting footage that he expects the process to be repeated at other dealerships.
He said: "We feel this fly-through drone tour offers a unique perspective on the layout and welcoming environment of a typical Lexus centre and will give our visitors a good idea of what to expect when they come to us.
"We think this fly-through filming offers great potential for providing previews of other Lexus centre around the country."