TrustFord's mile-munching Breakout for Ben fundraising initiative will be rolled-out to the entire industry in a bid to help the automotive charity plug a £1 million fundraising gap in 2021.
Launched by the AM100 car retail group back in 2018, Breakout for Ben initially took the form of a cross-continent driving challenge which saw empoloyees sponsored to drive as far as they could from the group's Long Marston Distribution Centre in 24 hours.
In its new guise, Ben will challenge socially-distanced teams of up to 10 to raise sponsorship for covering 1,722 miles by exercising in their own way.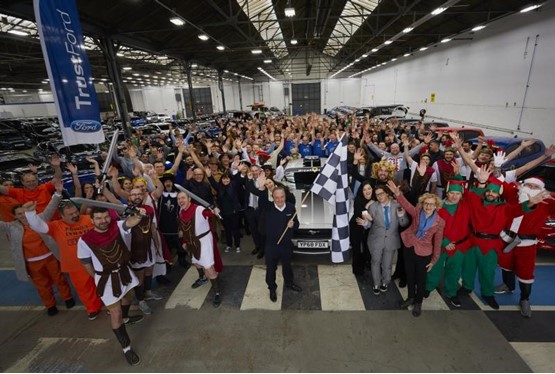 Running from February 5 to 14, the event will see teams embark on a virtual journey visiting motor circuits across the UK, starting at Pembrey Circuit in north Wales and taking in all four home nations, before ending at Silverstone.
Using an app, teams can track their progress together meaning they don't need to be physically together with other team members during the challenge.
Matt Wigginton, fundraising director at Ben, said: "It's a fun virtual challenge that anyone and everyone can get involved in.
"It's a great way to kickstart the New Year and start hitting those 2021 fitness goals.
"Let's join together for one last push to hit £1m – your support really will make a huge difference."
The new Breakout for Ben challenge follows Ben's "urgent plea" for assistance last year as it battled to cope amid a 50% increase in service demand against a £1m income shortfall.
A £40,000 donation from Sytner took the charity over the £0.5m fund-raising marke earlier this month and £530,000 has now been pledged by automotive industry companies.
However, there is still some way to go to ensure Ben can be there for everyone who needs support.
Therefore, Breakout for Ben has been added to the charity's calendar as part of the Do It 4 Ben fundraising programme.
There will be prizes awarded for the winners of various categories, including 'furthest in the first 24 hours' and 'most raised'.
Participants can choose to walk, run, cycle or exercise in any way they choose to progress along the route.
Wigginton said: "Thanks to the incredible support of our industry, we are now on the road to raising £1m to help people in our industry when they need it most. This said, we still urgently need your help as we're not there yet.
"Twice as many people are turning to Ben for mental health support and we don't want to be forced to make tough decisions about who we can and can't support.
"Automotive people need us now more than ever, as this period of unprecedented challenges continues. The issues people are facing now are more urgent and complex than ever."
For more details of how to get involved in Breakout for Ben 2021, click here.