Car retailers across the UK are expected to follow Marshall Motor Group's lead in maintaining COVID-19 safety measures in showrooms amid rising cases and soaring self-isolation orders.
AM reported yesterday (July 15) on the AM100 PLC's decision to maintain all its COVID-19 measures – including face masks, social distancing, showroom screens and unaccompanied test drives – following Government's lifting of all restrictions in England on July 19's so-called "freedom day".
Yesterday the UK recorded 48,553 new coronavirus infections – the highest level since January – as it emerged that rising cases had resulted in more than half a million people being ordered to self-isolate for 10 days by the NHS track and trace app.
Analysis by the Guardian newspaper suggests that 1.6 million people are currently self isolation.
Reports suggest that around 900 of its staff were now absent Nissan's Sunderland car plant after being "pinged" by the app, while Rolls-Royce has said it is approaching a 'critical point' due to staff being forced into self-isolation..
Marshall chief executive, Daksh Gupta, told AM that he expects more businesses to follow his lead to protect the health and safety of staff and customers as cases continue to soar.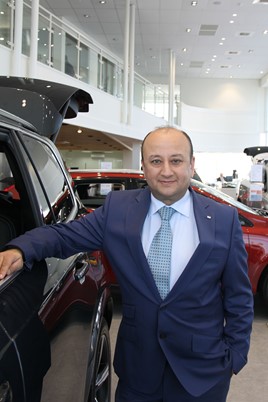 Gupta had said Marshall's decision, which he referred to as "a judgement call", could have received a mixed response.
But, after a day of gathering feedback from colleagues and via social media, he said: "The reaction I've received has been overwhelmingly positive.
"My hope was that in making this decision and taking the lead, we'd ease the burden on others considering maintaining their COVID measures but nervous about the reaction.
"I'm confident we made the right choice and, from the reaction and conversations I've had, I think other car retailers and businesses in other sectors will do the same."
Sainsbury's, Tesco and Waterstones are among the UK retail businesses that have now said customers should continue to wear masks to protect staff and other shoppers after July 19.
Sainsbury's has said that said signs and tannoy announcements would remind shoppers to cover their faces.
Transport authorities in London, Manchester and South Yorkshire are among those that have said travellers will have to wear masks on trains, trams and buses.
A recent YouGov report found that 64% of Brits plan to keep wearing masks even after COVID-19 restrictions end, while 40% will continue avoiding crowded places.
AM reported earlier this week that increasing numbers of people are deleting the NHS COVID-19 app from their smartphones amid fears that 'freedom day' on July 19 could trigger a wave of enforced self-isolation and staff absences, however.
A survey published by Savanta ComRes, and reported by the i newspaper, has revealed that a third of people aged 18 to 34 have already deleted the NHS Covid-19 contact tracing app and a further 20% of all adults plan to delete it from their phones on July 19.
Last week AM reported that car retailers are keen to see Government deliver an "urgent solution" to the issue of staff absences due to COVID-19 self-isolation regulations.
The BBC reported that 4.5 million people could still be asked to self-isolate between now and August 19 and car dealers told AM that a solution to staff absences has become the most pressing ongoing business issue ahead of the July 19 lifting of COVID-19 restrictions in England.
This week Peter Vardy Group chief executive, Peter Vardy, told AM that his business currently has 70 of its 1,000-strong employees off work as self-isolation compounds its post-COVID staffing issues.
He said: "It is a real worry for us. Having so many staff out of the business just makes it harder to deliver the service that we want to. It's putting a real strain on operations in some places."
Speaking to AM about the lifting of COVID-19 restrictions on July 19, Swansway director Peter Smyth described the issue of having healthy staff off work due to an alert to social contacts as "a constant pain".
"We need to cut out the absences from work. If that means more regular testing, so be it," Smyth told AM.