Lexus claims that it has unlocked the doors to many motorists' dream garage with the launch of a new vehicle subscription mobility service delivering access to a CT200 hybrid hatchback from £619 per month.
The new scheme, branded as Lexus One and developed in partnership with Drover, claims to offer a simple, flexible and affordable solution, giving people the chance to drive the car they want for a single monthly payment.
Ewan Shepherd, Director of Lexus in the UK said: "Lexus One opens up exciting new opportunities for people to experience our vehicles. It's designed to be completely user-friendly, letting you choose the vehicle you want, when you want it.
"The subscription covers all the principal financial aspects of running a car and the customer can decide when they want a change of model, or to end their participation."
Lexus One's launch comes two months after Volkswagen Financial Services announced its pilot of a subscription service partnership with Drover – offering vehicle subscription services to UK customers starting from £514 a month.
It joined brands like Jaguar, Land Rover, Volvo, Citroen, Peugeot and DS in offering vehicle subscription services to UK customers.
Volkswagen's pilot scheme will initially run with a limited number of vehicles including the Golf from £528 a month, a Passat from £514 a month and the Tiguan from £643 a month.
Lexus One's monthly subscription covers the cost of vehicle delivery and collection to their home or place of work, comprehensive insurance cover, routine servicing and maintenance when required and a weekly wash at a Lexus Centre.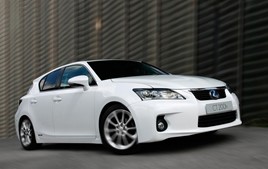 Every month customers can choose to keep the car they have, choose a different model, or, if they wish, end their agreement, Lexus said of the offering, which can be applied to an RC coupe, RX or NX SUV, IS saloon or CT hatchback within the scheme's 1,000-mile monthly mileage allowance.
Lexus said in a statement that its mileage allowance can, however, be carried over for successive months for the same vehicle if the limit is not reached.
All the vehicles featured in the scheme are between one and two years old and come with Lexus Roadside Assistance and a 5p-per-litre discount is also part of the package when using a BP fuel card.
Shepherd said: "We are proud of our reputation for delivering amazing experiences and the highest standards of customer service and we see Lexus One as another example of how we can introduce more people to the great range of vehicles we offer."
The process of signing up to the Lexus One subscription scheme will see customers gain access via a secure online process, using a website powered by Drover, which is accessed via the lexus.co.uk website.
The customer chooses the vehicle they would like, creates an account, provides details of their driving licence and current insurance and selects their preferred date for the vehicle hand-over.
The lead-time for delivery is just three days.
Subscribers must be aged 25 or older and hold a full, current UK driving licence.