Performance electric vehicle (EV) brand Polestar has revealed plans to double its retail presence and launch a new out-of-town 'Destination' store concept as part of ambitious new growth plans.
The Geely-owned EV brand, which told AM earlier this year of plans to double its UK presence with the opening of new Polestar Space stores in Birmingham and Glasgow before the end of the year, is poised to launch in a further nine global markets – doubling the total number of markets to 18.
Polestar will also double its number of retail environments around the world to around 100 locations by the end of the year and introduce a new Polestar Destination store concept.
A statement issued this morning (July 26) said that Destinations would be located at "larger, easy-to-access out-of-town locations" and will also provide a vehicle handover experience to customers who decide to purchase.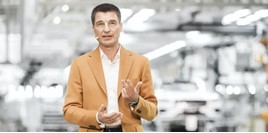 Polestar chief executive, Thomas Ingenlath, said: "We are expanding both within markets in which we already have a presence and into new markets extremely rapidly.
"As a brand that has only been fully operational for just over 12 months, this sort of footprint is unprecedented.
"We aim to expand at a similar rate in terms of new markets in 2022 as well. This continued pace, combined with new retail concepts, will support our goal to exceed our owners' expectations."
Polestar currently partners with AM100 car retail groups Endeavour Automotive and Lookers – who operate under agency-style franchise agreements – at its two UK Polestar Space locations in the UK.
Polestar UK chief executive, Jonathan Goodman, spelled out plans for growth of the current two-site Polestar Space physical retail operation in a manufacturer profile interview with AM earlier this year.
Although Polestar sales are completed wholly online the brand's head of sales Mike Whittington said that it remained focussed on "ensuring that customers can interact with the brand and our cars on their terms" with the help of physical locations.
"A refined online buying environment is backed-up by physical locations to help drive awareness and sales," he said.
"Our new Destination concept gives customers even more access to the brand, and fits some of our newer markets particularly well."