Last month, we said disentangling the effects of the new WLTP emissions test from underlying market forces in September would be hard. We now have to admit that it has been pretty near impossible.
Year-on-year, the overall market was down by 20.5% for the month and 7.5% YTD. The company most affected by WLTP was Volkswagen Group – Škoda was the least bad performer (-31.3%), followed by Seat (-36.7%), Audi (-53.4%), VW (-55.2%) and Porsche (-67.9%). As we pointed out recently, this is a Europe-wide VW issue, with Audi down 55.5% across the continent and VW Group as a whole down approximately 50%.
The reason for the problem is intriguing – VW said in August that a lot of engine experts had left in the wake of the diesel emissions scandal, and they did not have enough engineers left to homologate the vast number of engine/transmission/model/specification combinations across the group. The problem is that WLTP requires separate homologation of every combination of equipment, right down to tyre sizes.
Hence, drawing conclusions of market performance at a manufacturer level is not very helpful this month – it was as much about who was prepared for WLTP as about whose cars were in demand (oddly, the best prepared company in Europe appears to have been South Korean Kia, which was the only Top 10 company to increase registrations). Instead, it is more useful to look at segment trends, on the grounds that WLTP effects are likely to be broadly equal at a segment level.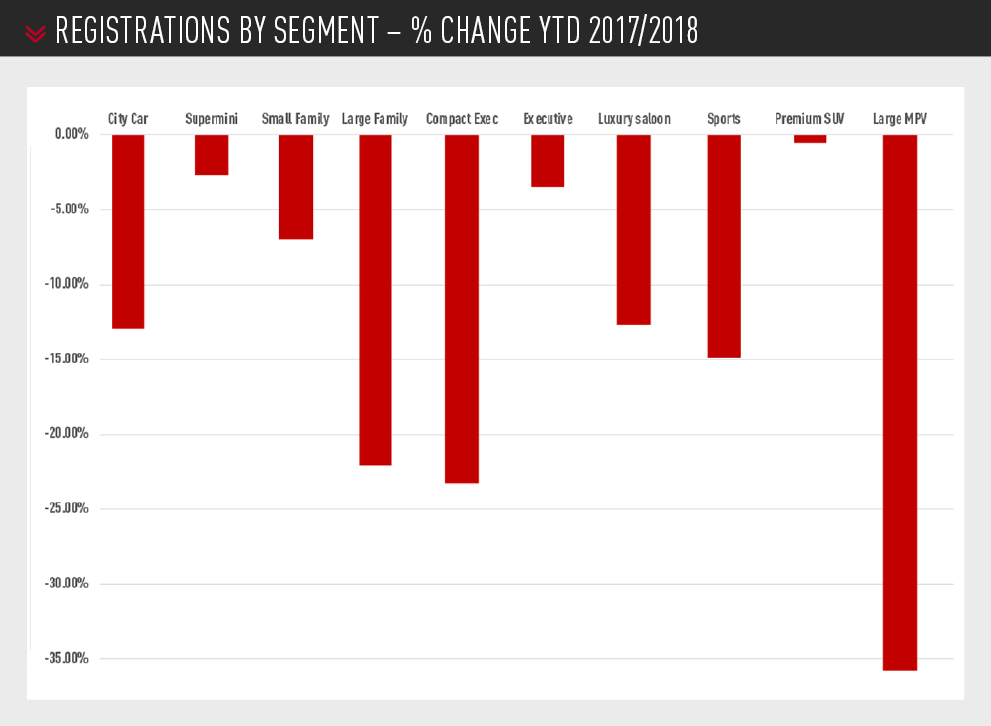 The city car segment has fallen by 12.9% YTD and now takes 7.2% of the market. That is well down on the market share figure of 9.8% YTD 2012, partly a reflection of the fact that the segment tends to do worse when the economy is weak, as so many of these models are bought as second/third cars.
However, there may be a deeper factor at work. In urban areas, is a family's second/third car now an Uber? With the rise of ride-hailing apps, there may be less demand for the extra family car that does the occasional short run. In the longer term, if robotaxis become common in city centres, it is city cars that are most likely to suffer. A fully autonomous car that can do the job of, say, a Jaguar F-Pace is at least 10 years away, but autonomous shuttles doing short trips in city centres will be here in less than five.
Crossovers keep b-segment buoyant
Superminis (B segment, -2.7%) are doing better than the overall market, as are C-segment small family cars (-7.0%). As the heartland of the car market, accounting for 65.7% of total sales, these two segments are less volatile than most. Incidentally, if you are wondering how just two segments can account for almost two thirds of total sales, the reason is the rise of the crossover. Traditionally, the B and C segments each accounted for 25%-30% of the market, but the rise of models such as the Mokka X and Qashqai have transformed market shares. It could be argued that a crossover belongs in a different segment to a hatchback, but something like a Tiguan is really a Golf with a different outline.
Compact executives continue to fall
Large family cars continue their inexorable decline (-22.1%), but actually performed slightly better than compact executive models, which fell by 23.3%. The significant factor in the compact executive sector is that German brands took 88.8% of registrations YTD. At first sight, that may not seem like big news – the 3 Series, A4 and C-Class have always dominated. However, the significant factor is that their share has gone up from 87.3% last year, despite Audi's WLTP problems. With the new Jaguar XE and Alfa Romeo Giulia, one would have expected the share of the German brands to fall. What seems to be happening is the segment is now made up of die-hard buyers – people on their nth German premium saloon. Most of the people open to new models have moved over to new SUVs instead. That means new compact executive models are aiming at a market that barely exists.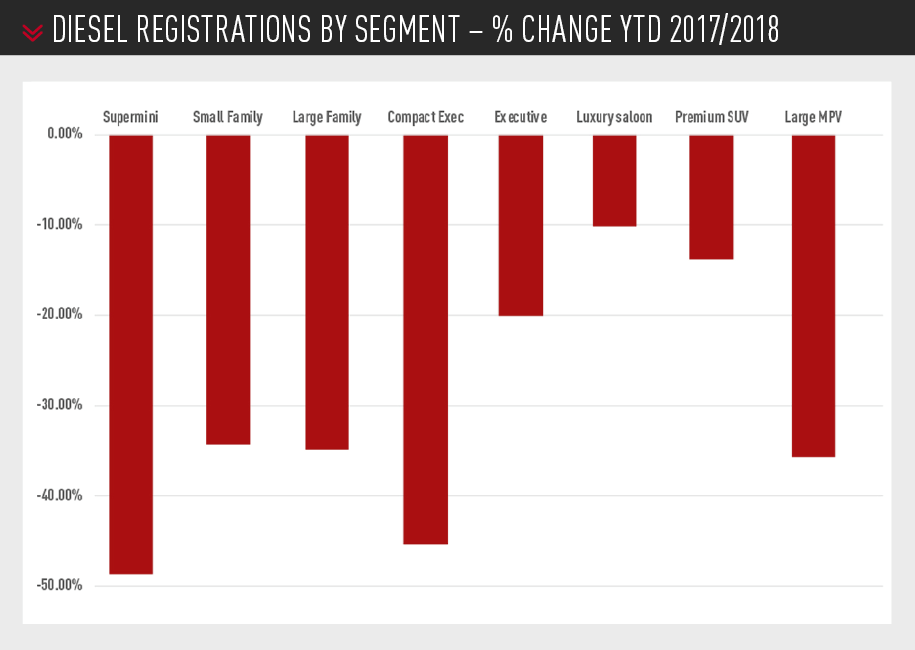 Although a smaller segment, executive models such as the BMW 5 Series, have performed much better, with a sales decline of 3.5%. Jaguar is not doing brilliantly here, but at least the XF is outselling the XE and fighting with the Volvo S90/V90 for fourth spot in the class.
Luxury saloons are pretty stable, given that there are always about the same number of chief executives in need of an S-Class or similar. Overall market share has barely changed in 25 years.
The end of the affordable sports car?
However, there are big changes in specialist sports models. We used to separate this segment into affordable and luxury sports cars, but affordable sports cars are fading away. The only low-cost sports cars to sell in any number are the Mazda MX-5 and its relative, the Fiat 124 Spider. Below that is the Toyota GT86, which has not even sold 500 units so far this year. Luxury sports cars are more stable, with the most expensive models doing best of all – McLaren is having a record year, with 545 units sold YTD (up 21.9%), and Lamborghini is up a remarkable 185% to 419 units YTD.
Meanwhile, premium SUVs continue to march on with the stately progress of a Range Rover driving along a green lane. Market share is up from 12% to 12.9%, with overall sales down just 0.5%. Sales of Jaguar crossovers have risen to a very respectable 16,600 YTD, well ahead of Jaguar saloon sales (10,100 YTD). There has been recent news about production stoppages at Land Rover, but their sales are only down 9.9% – not much worse than the overall market, and mostly due to the run-out of the Evoque.
After the wild swings of September, let's hope the market gets back to some sort of normality in October, so that we can draw some firm conclusions about manufacturer and model performance. DAVID FRANCIS