The average UK car dealer lost £14,000 during August in what has been described as a "significant deterioration" on the break-even result achieved in the same month a year earlier.
Mike Jones, chairman of car retail profitability statistics specialist ASE, said in his monthly report on the sector that the decline could be partially blamed on the added income achieved as retailers assisted their manufacturer partners in clearing their stocks of non-WLTP compliant stock in 2018.
The Society of Motor Manufacturers and Traders (SMMT) reported in September 2018 how the impending roll-out of the new WLTP and RDE fuel economy and emissions legislation created a "false economy" in which sales rose 23.1% in August, 2018.
This had the effect of boosting retailers' fortunes ahead of the key number plate change month, but have reflected badly on comparative profitability results for August 2019.
Jones said: "The average UK motor retailer lost £14,000 in August 2019, a significant deterioration from the breakeven position achieved in August 2018. This represents a return to more historic levels of profitability after the WLTP assisted marginal profit of the prior year."
He added: "Whilst the overall loss is significant, it is on a par with the losses historically made during the month of August with 2018 representing a WLTP generated anomaly."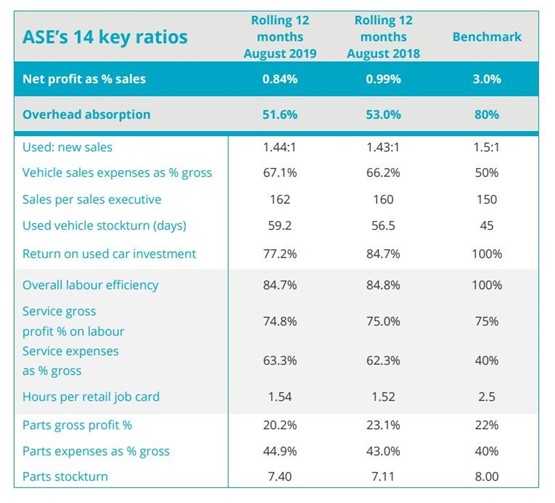 ASE's statistics for August showed that the average sales executive had sold more vehicles, with their total having risen from 160 in the rolling 12 months to August 2018, to 162 in August 2019.
Nevertheless, vehicle sales expenses rose as a percentage of gross rose from 66.2% to 67.1% during the period, with aftersales services expenses also rising from 62.3% to 63.3%.
Jones said that retailers had been adapting their business to achieve greater results in a used car market under pressure from increased competition and ever-tighter margins, however.
"Whilst used car returns have remained under pressure, retailers did manage to significantly reduce their stock investment during August, dropping the average investment by 6.2%," he said.
"This is traditional in a pre-plate change month, however it is pleasing to see given the level of pressure to register vehicles we are currently seeing."
While the ratio of used to new cars rose from 1.44:1 from 1.43:1, ASE identified that the average return on used car investment had fallen from 84.7% to 77.2% year-on-year.
Delivering his outlook on the remainder of 2019, Jones said that the market continued to look "tough", but suggested that there were signs franchisees' car manufacturer partners were showing support in light of the difficult trading conditions.
He said: "With September not seeing the expected RDE based boost to registrations and expected profitability in September, the outlook for the remainder of the year looks tough.
"The one counter to this is that brands have started to introduce network support payments to compensate for the poor year. If this becomes widespread the overall profit drop will be mitigated."