It is not often that a government (least of all this one) can be called "prescient", but there must have been a few wry smiles at the Department for Transport recently. In October, the Government announced an end to all grants for plug-in hybrids, and in November a report from the Miles Consultancy confirmed what some in the industry had long suspected – many corporate buyers chose plug-in hybrids for their tax advantages and rarely plugged the vehicles in.
In fact, some cars were said to be traded in after two or three years with charging cables still in their sealed wrappers.
The report may even lead some to think about rehabilitating diesel, but there is no evidence of that in the October sales figures. Year-to-date, diesel registrations have fallen 30.7% and diesel's market share dropped 10 percentage points (31.8% YTD). Diesel superminis are now approaching extinction – segment share is down 47.4% YTD, and the once common Fiesta diesel now takes just 3% of total Fiesta sales. Even the compact executive segment, where the BMW 320d was once king, is now only 46% diesel.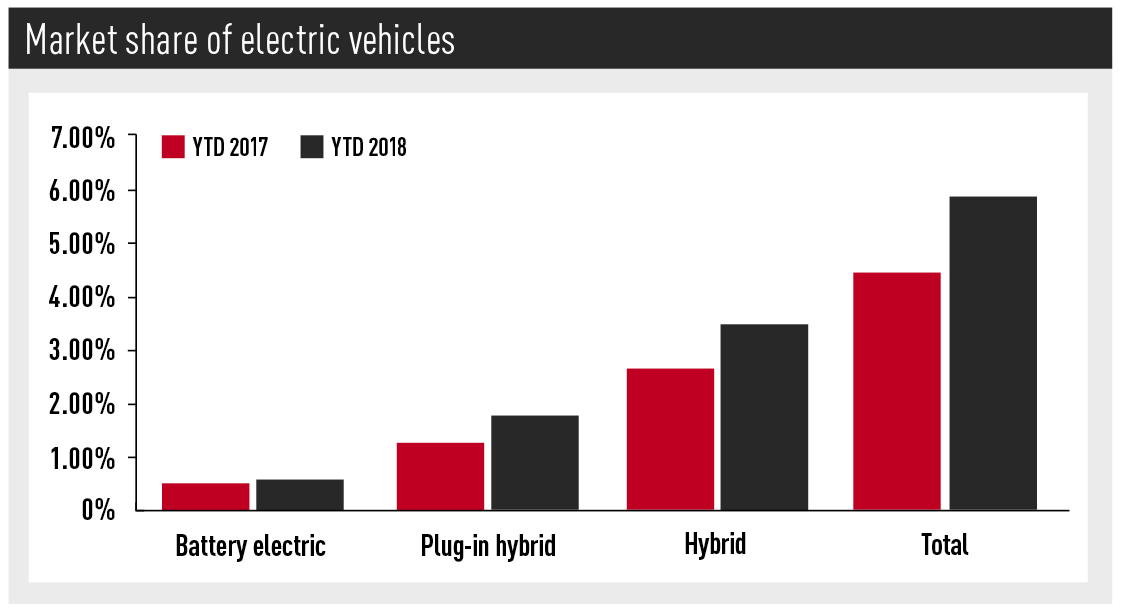 At a segment level, the biggest fall was seen in a segment rarely considered (by us or by consumers) – large MPVs. Registrations have fallen by 37% YTD and market share is down to just 1.2%, its lowest since the Ford Galaxy and VW Sharan (then the same vehicle) first appeared in 1995. Today, only Ford and VW make unique car-based MPVs – the other dozen-or-so models are converted vans, such as the VW Caravelle and Mercedes V-Class. With the future of the Galaxy and S-Max uncertain, the days of car-based MPVs may be coming to an end in all segments. B-segment MPVs are down 65.8% and C-segment MPVs are down 31.3%, so unique MPV bodystyles may no longer be viable.
The only segment that has avoided a sales fall is premium and large crossovers (large being defined as Hyundai Santa Fe-sized models), with a fractional volume increase of 0.2%.
The best result came from luxury SUVs, which was up 19.6%. The Range Rover Velar is proving a big success and is vying with the Range Rover Sport for segment leadership – interestingly, sales of the Range Rover Sport are up by 9.7%, so there is no problem with the Velar pinching sales from its slightly bigger brother. But it is not all good news in the segment. Despite the introduction of the Bentayga, total Bentley sales are down 10% this year, at 1,500 YTD, and are barely higher overall than before the super-luxury SUV was launched. One has to assume production issues with new models are the cause, so it is hard to know what the underlying demand is for the Bentayga.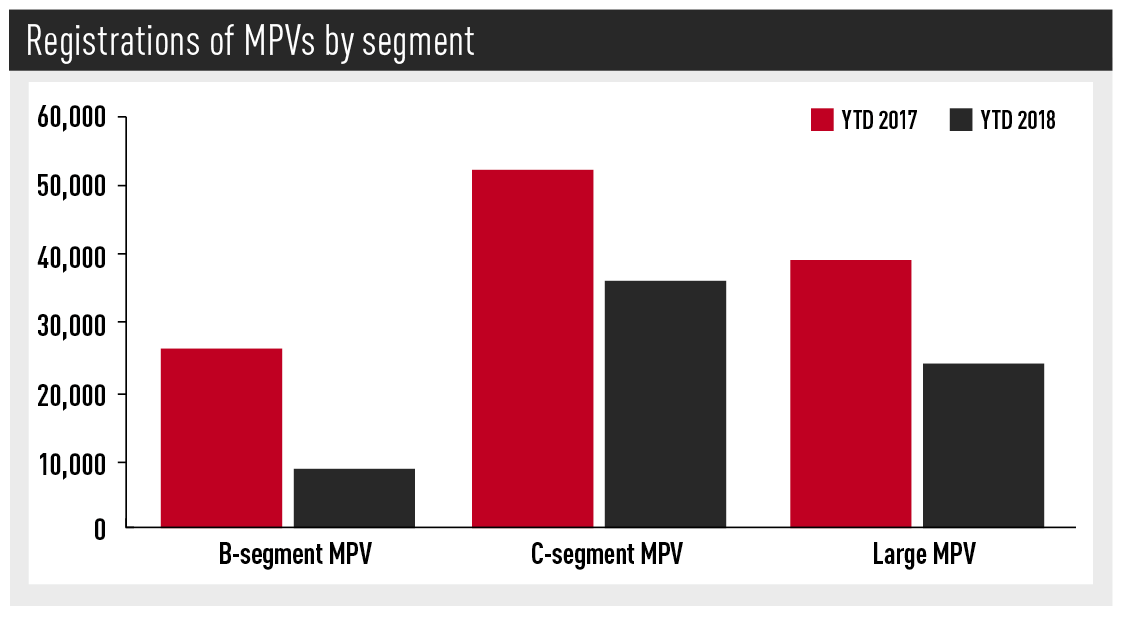 The segment which has fallen by the smallest amount is superminis (-1.94%). This is not purely because of the rise of small crossovers: although B-segment crossovers have grown by 18.9%, B-segment hatchbacks have only fallen by 5.78%, which is better than the overall market (-7.2%). However, that is not the case one class up. C-segment hatchbacks (e.g. Ford Focus) have dropped by 15.7%, as people move over to similarly sized crossovers, which are up by 13.4%.
At a manufacturer level, market-leading Ford had another difficult month, with sales down by 12.2%. This was mainly due to the changeover of the Focus, so Ford may be hoping for a recovery next year. However, the 2017 Fiesta did not lead to growth in market share, so a bounce-back is not guaranteed. The one bright spot for Ford is that the heavily revised Ecosport has increased sales by 35.9% and is now up to third place in the supermini crossover market.
The other big "British" brand, Vauxhall is down by a similar amount (-10.7%) and now has a market share of 7.4% – that is back to the level Vauxhall was at when it was making Victors in the 1970s. The biggest problem is the Astra, launched with such optimism just three years ago. Sales are down by 40.2% YTD, and it is only 6,000 units ahead of the Seat Leon, a car the Astra used to outsell many times over.
However, the biggest fall has come from Nissan, not a company that has often shown market share declines in recent years. Registrations have fallen by 32.4% YTD, with the Juke declining by 35.9% and the Qashqai falling by 21.7%. The smaller-selling X-Trail has also fallen by 53.3%. These three models account for more than 80% of Nissan sales, and they are the three models whose new generations will be built in Sunderland. The new models cannot come soon enough, but the first one, the Juke, will not start production until mid-2019, with customer deliveries in the last quarter of the year.
The biggest mainstream winner YTD also comes from an unfamiliar source. Seat, so long the problem child of the VW empire, has finally come good. Some 10-20 years ago, its strategy was trying to sell lots of Cupra hot hatchbacks in the hope that turbo-nutter models would somehow help the image of mainstream models (rather like a Spanish Subaru). Today, Seat makes nicely styled, well-made mainstream hatchbacks and crossovers for people that would not know a hot hatch if it bumped into them. That may be a lesson to others in doing the basics right, but other companies don't have access to VW's vast parts bin, which makes life a lot easier. Still, all credit to Seat. Having the right tools for the job is only half the story – you still need to know how to use them properly. DAVID FRANCIS