Franchised car retailers proved more resilient than then independent used car selling counterparts during 2019's tough trading conditions, according to the CarGurus One Voice Report.
The online marketing specialist surveyed more than 700 dealers to compile its annual report, which was published this week and found that franchisees experienced a less severe impact on their profit margins during last year's shrinking new and used car market.
Now in its second year, the One Voice Report looks at a host of topics including profitability, digital retailing trends, stock location, speed of sale and lead management.
In total, just over 50% of all dealers reported margins were down in 2019. However, while 51.1% of independents reported a fall in margins last year compared, 44.2% of franchised businesses admitted to having experienced a similar decline.
At the other end of the spectrum, only 20% of independent retailers said margins were up on the previous year; for franchised operators, this figure was significantly better at 28.4%.

CarGurus said that comments made by surveyed retailers had revealed that the blame for the downward trend in 2019 was firmly directed at Brexit and political uncertainty with almost two-thirds of retailers reporting Brexit had a negative impact on the market.
Used car dealers, however, were more optimistic about 2020 – only a quarter (24.7%) said they expected margins to fall again in 2020.
Wendy Harris, vice-president of European Sales at CarGurus, said: "Cost control and pressure on margins are always at the core of a used car dealer's operation and are clearly key areas of concern, but 2019 saw this focus intensify.
"The marked change from the first One Voice Report released in January 2019 is that Brexit and the surrounding political environment is now taking the brunt of the blame for dealers' lack of market confidence.
"Looking beyond Brexit, the picture is encouraging, particularly for online sales and the digital tools to help guide buyers to the right car at the right price.
"However, with two-thirds of enquiries coming by phone or email, retailers need to have the right systems, tools and processes in place for 2020 to make sure there's no lead leakage."
The One Voice report gave a clear indication of car dealers digital investments for the year ahead and an intention to drive the growth of certain transactions online.
In 2019, 13.6% of dealers reported they had customers who had bought a car entirely online before visiting a showroom.
Interestingly, paying a deposit online or gaining finance qualification and reserving a car online were less common occurrences (10%) than a full online purchase.
As a result of the progress in digital sales, online finance completion and click-to-buy topped the list of digital investments retailers are planning for 2020.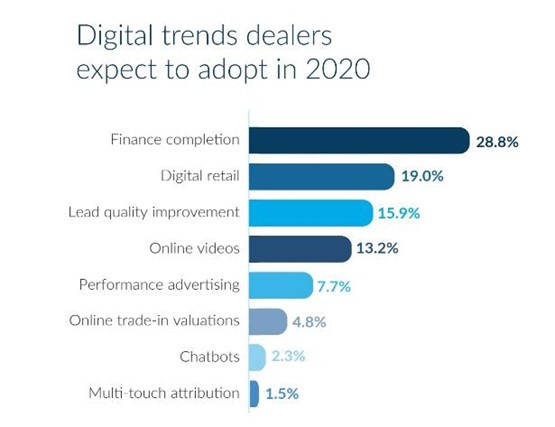 As car retail businesses look to grow their businesses through the use of new digital assets, they are also looking for greater efficiency from their used car operations in order to counter falling margins.
But many retailers said that stock shortages were making it increasingly hard to find the right vehicles at the right rice.
Many revealed that they had changed their stocking strategy, introducing measures such as searching more channels and looking further afield for vehicles.
The report also uncovered the speed with which retailers turned their stock, with the best independent retailers outperforming the best franchised retailers.
However, franchised dealerships were better at controlling over-age stock, according to the report.

CarGuru's survey questions related to dealers' management of sales leads threw up some interesting insight, with more than a quarter are still using a paper-based system.
The report found that even though the majority of retailers use lead management software, retailers are still finding it difficult to track customers' journeys and attribute sales leads to a particular source.
Recognising this issue, 38.5% of dealers said they would be upgrading their lead management software in 2020.
Harris said: "The CarGurus One Voice Report highlights the opportunities and threats facing used car dealers in what is a complex and ever-changing selling environment. Not only can dealers learn from perspectives shared by other dealers, but the insights surfaced in this report will also help inform CarGurus' efforts to support our dealers in the most important areas.