Less than half of UK car retailers are equipped to complete contactless online car sales despite the renewed focus on digital marketing brought by the COVID-19 coronavirus outbreak.
Results from the 'AM UK car retail coronavirus impact survey' – conducted between March 25 and April 3 – revealed that just 48.7% of the 427 respondents had the ability to trade online.
A total of 9.7% stated that they did not have a system in place yet, suggesting they had plans to implement changes.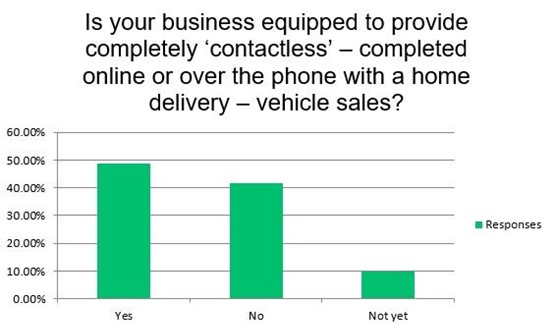 Full details of the AM UK car retail coronavirus impact survey will feature in the latest print version of AM magazine, which will reach subscribers this week. A digital edition of the magazine will also be uploaded online. Click here to access AM's digital editions.
A week before the Government's March 23 decision to impose a full retail lockdown in the UK as part of efforts to inhibit the spread of COVID-19, Peter Vardy chief executive, Peter Vardy, offered a free three-month trial of his SilverBullet online trading platform, stating that life may prove "extremely difficult" for car retailers unable to transact online in the weeks and months ahead.
Even after lockdown restrictions are lifted – and current reports suggest a Government announcement is set reveal that the current measures will remain in place until at least May 7 – many car buyers may prefer to transact in a contactless fashion.
The results of AM's survey suggested that many retailers expected to continue trading in a face-to-face fashion, however.
Of those that said they cold already transact in a wholly online fashion, 74.7% stated that they expected the lower scale of up to 20% of their sales to be completed online in 2020, with 14.6% saying that online would account for 21% to 40% of their volume.
With Rockar among the respondents, 2.3% said that their online sales would be more than 81% this year.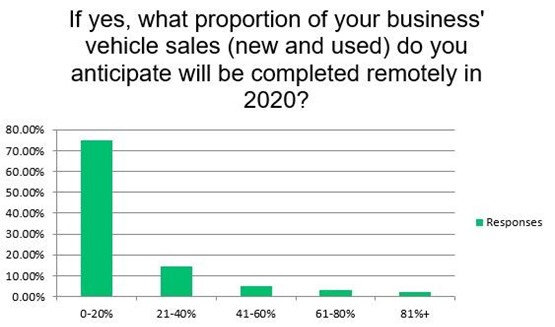 In its 2018 annual financial results statement, published in September last year, Peter Vardy revealed that it expects to complete 50% of its car sales online by 2023.
Central to its plans for future retail success the company – which has invested in online retail start-up Silver Bullet – said that it intends to sell half of its vehicles online by 2023, with a target of 60% of all service bookings coming through online channels in the same year.