Jato Dynamics has said that no car manufacturer was prepared for or expecting "such a large-scale crisis" after COVID-19 lockdown delivered a 78.1% April decline in registrations across Europe.
Just 292,600 vehicles were delivered to customers during April – a decline from 1.34 million a year earlier – as the market slumped to its lowest level since the 1970s, according to the market analyst's data from the region's 27 countries.
The result meant that Europe's new car sales were the hardest hit out of the globe's three key markets – China, USA-Canada, and Europe.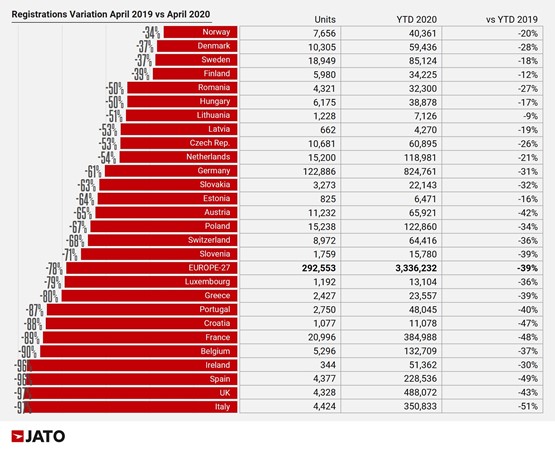 Felipe Munoz, global analyst at Jato, said: "Lockdown across the globe contributed significantly to the huge drop in registrations. Not a single OEM was prepared for this scenario or expecting a crisis on such a large scale.
"The only silver-lining from this turbulence is that it has created an opportunity for automotive players to reassess their operations and become more agile."
Car retailers across the UK were able to re-open their showrooms to customers yesterday (June 1) and told AM that business volumes had been far greater than those of normal trading as pent-up demand among car buyers begun to pay dividends.
The pressure is now on to maintain that momentum.
Four of Europe's automotive sector industry associations joined forces last month to call for car scrappage schemes as part of a 25-point COVID-19 coronavirus recovery plan.
The campaign begun within days of Jato's assertion that the European new car markets should expect a U-shaped recovery after being hit hard by the COVID-19 coronavirus outbreak in March, suggesting its recovery could be more protracted than that seen in China.
Jato's analysis of market data from across Europe during April showed how lockdown measures caused registrations to fall at different times and different levels.
In Scandinavia, citizens were granted more freedom of movement, thus registrations fell by 37%, the lowest decrease.
In contrast, registrations in Italy, the UK, Spain and France tumbled from 646,000 units in April 2019 to 34,000 one year later as more stringent lockdown measures were imposed.
AFVs performed best
Signs that car manufacturers efforts to reduce their fleet CO2 emissions average in the face of strict new EU regulations – dictating a 95g/km average output in 2020/21 – had continued despite lockdown were in evidence despite stalled trading.
Jato reported that electrified vehicles (including hybrids and plug-in hybrids) totalled 50,400 units during April – accounting for a market share of 17%.

And while hybrid cars delivered a decline of 66% to 18,900 units, pure electric vehicles (EV) registered a decrease of just 29% to 16,700 vehicles, while plug-in hybrids delivered a rise of almost 14,000 registrations – up 7%.
Munoz said: "EVs were already driving part of the small growth that remained in 2019. This year, as governments have acted quickly to protect their people and economies, EVs have gained even more traction and visibility due to incentives.
"These cars are likely to become the top choice for consumers seeking private transportation. OEMs who have invested heavily in EVs, are best placed to navigate the tough months ahead."
Registrations of Volkswagen's, Volvo's, Audi's and Ford's electrified vehicles posted double-digit growth, according to Jato's data.
Among the key performers were: the Volkswagen Passat PHEV (981 units) and e-Up (678 units); Volvo V60 PHEV (897) and XC40 PHEV (339 units); Audi E-Tron (1,289 units) and A3 PHEV (465); and Ford's Puma HEV (1,170 units) and Kuga PHEV (753).
Other key models such as the Tesla Model 3, Renault Zoe and Nissan Lead registered declines of 37%, 47% and 56% respectively.
SUVs' market share remained stable at approximately 37% as registrations totalled 109,500 units – 78% less than April 2019.
Jato said that COVID-19's impact was keenly felt by the B-SUV and C-SUV sub-segments due to their popularity in France, Italy and Spain, where stringent lockdown measures were imposed during the month.
SUVs lost market share in the UK from 43% in April 2019, down to 37% in April 2020.
The lucky 13
Just 13 new car models delivered an increase in registrations in Europe during April, among which were the Mercedes EQC (42 units to 409), Porsche Cayenne Coupe (68 to 210), Skoda Scala (713 to 1,673), BMW X7 (202 to 341), Audi E-Tron (963 to 1,307), Mercedes GLE (1,047 to 1,272), BMW X6 (405 to 471), and Mercedes GLS (174 to 195).
Among the top-selling models, were the Volkswagen Passat, BMW X3 (the top-selling premium car), and Volvo S60/V60 in 24th position.
Top market share was awarded to the Skoda Kamiq, BMW X3, Skoda Octavia, Ford Puma and Mercedes GLC.
In contrast, the Fiat Panda, Nissan Qashqai, Volkswagen Polo, Opel Mokka and Peugeot 3008 recorded the largest declines in market share.