Ageing stock has been cited as the "main driver" of £1.6 billion losses incurred by Europe's used car retail sector between the start of the COVID-19 coronavrius lockdown and mid-April.
Autovista's 'Scenarios for residual value development in Europe for 2020, 2021 and 2022' whitepaper detailed the scale of the losses incurred by the sector in the opening weeks of the pandemic and said that it expects losses in residual values observed across markets "to build up over the coming weeks and months".
The whitepaper said: "The main reason for the pressure on RVs is the economic crisis that is building.
"Latest forecasts estimate economies in Europe to contract by 7% and potentially more in 2020.
"Forecast institutes do not anticipate a quick economic recovery and this will wash through to purchase power and private demand.
"We also see a more negative development of used car prices in countries, that have had no or a more relaxed lockdown but more exposure to the economic impact of the crisis."
Yesterday (May 12) data published by the Society of Motor Manufactuers and Traders (SMMT) showed that the UK's used car market contracted by 8.3% in the first quarter of 2020 following a COVID-19 coronavirus lockdown-prompted 30.7% decline in March.
The figures will be starker for April, when the UK's car retailers experienecd their first full month of lockdown.
However, Autovista's market research concluded that countries such as the UK and France, where the lockdown has been more strictly enforced, would see a lesser impact on residual values than countries like Sweden and Finland, where car retailers were allowed to continue trading despite dramatically reduced consumer demand.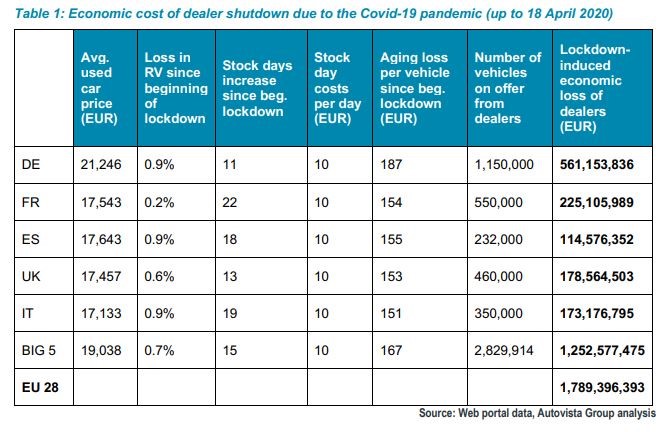 The analysis tallies with advice issued by the likes of Cap HPI and Auto Trader regarding pricing adjustments.
Both the valuations expert and digital marketing provider have urged retailers in the UK to exercise restraint in valuation changes in a bid to maintain a stable used car sector.
Autovista also noted in its whitepaper that days in stock rise during lockdowns and every day costs money, in particular associated to lending.
"We estimate that these costs are circa-€10 per day of lockdown", it said.
However, many funding providers and car manufacturers have made efforts to ease the cost of stock funding for their car retail partners.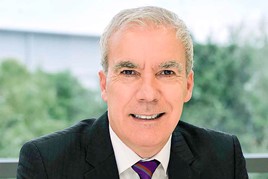 Speaking to AM last week, Suzuki GB managing director, Dale Wyatt, said: "We have to put these things in place. We cannot have our retailers treating these days of lockdown as if they were normal trading days.
"When the market returns we cannot afford to have retailers approaching their stock like it's suddenly 90-day over-age. I think we'll need to be more patient than that to minimise the impact of the lockdown period."
In its whitepaper, Autovista noted that "pressure on dealers will rise to turn stock quickly, once they re-open", adding that OEM support would be vital to their recovery.
It said that, for dealers, it will be pivotal to "avoid giving in to the temptations of discounting", adding: "Mistakes made during this phase may affect you down the road."
The whitepaper said: "With economic pressures building, dealers could offer straightforward discounts to attract used car buyers.
"We will see dealers do it and it will be a mistake, as it establishes a downward-pressure on vehicle prices – new and used – also for the remainder of the year.
"There are alternative ways to create an attractive offer that should stimulate demand for cars."
Despite the stark warnings contained within its whitepaper, Autovista suggested that the UK used car market may recover faster than many other European car markets thanks to a resurgence in residual values.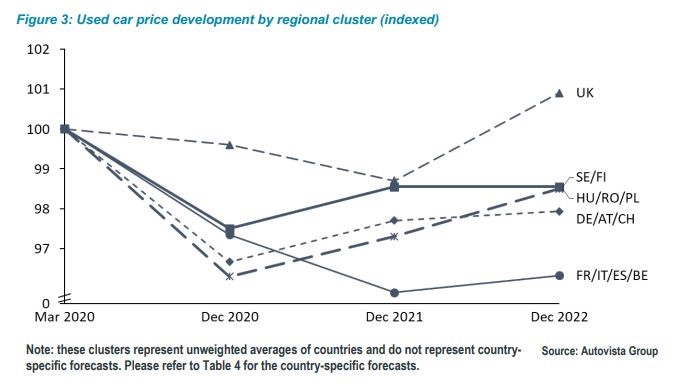 It estimated that the UK will have fully recovered in terms of used-car prices to levels above those in March 2020 by the end of 2022, citing "limited elasticity in the market, together with the fact that supply of new cars has drastically reduced and is unlikely to ramp up again soon".
The analysis also pointed to pent-up demand and its role in containing the risks of further drops in used car values.
Last month AM reported on the findings in Indicata's Market Watch report, which showed that the early easing of car retail COVID-19 coronavirus lockdown restrictions in Austria and Germany had delivered 'no strong signs' of a used car market bounce back.
Austria used car sales volumes rose to half their April norm after it became the first country to ease lockdown restrictions for the motor industry on April 12, it said.
In Germany dealers opened for business on 20 April. During its 2020 peak it saw 16,500 sales per day, falling to 5,500 during lockdown where dealers saw restricted used car trading.
Indicata said: "Very early signs of life are starting to emerge which follows a similar trend to Austria."
The Market Watch Data seemed to tally with data published about the global new car market published by Jato Dynamics.
Jato said that, while China's automotive sector appears to be on-course for a V-shaped recovery, the pattern in Europe is likely to be more protracted – producing a U-shaped outcome.
Car retailers can dowload the full Autovista 'Scenarios for residual value development in Europe for 2020, 2021 and 2022' whitepaper by clicking here.