Cazana, the vehicle data company, has confirmed that used car pricing has not raced to the bottom during lockdown.
Rupert Pontin, Cazana director of insight, recently presented a webinar session on how the market has reacted during the lockdown and in the last week as showrooms have started to re-open.
He said: "Surprisingly, when we're looking at values as a percentage of original cost new compared to the last two years, we see very little variance.
"This came as a surprise to many, perhaps expecting that prices were going to drop significantly during the course of the lockdown."
Younger vehicles and-PCP have actually gained slightly in value, while ex-fleet vehicles have seen a slight decline.
However, Pontin pointed out that the decline for ex-fleet has actually been a trend for May anyway since 2018.
There has been an overall movement in pricing for fuel type during the course of the lockdown.
This has ranged between 6% or £1,1258 for petrol, 2.94% or £846 for petrol hybrids, down to 1.5% or £414 for BEV. Only diesel saw prices declines of £157 on average during the lockdown, according to Cazana's data.
​Pontin said: "Other companies may have forecast prices to drop or said there has been very little movement, but when you look at the data on a week by week basis, it categorically shows there have been increases."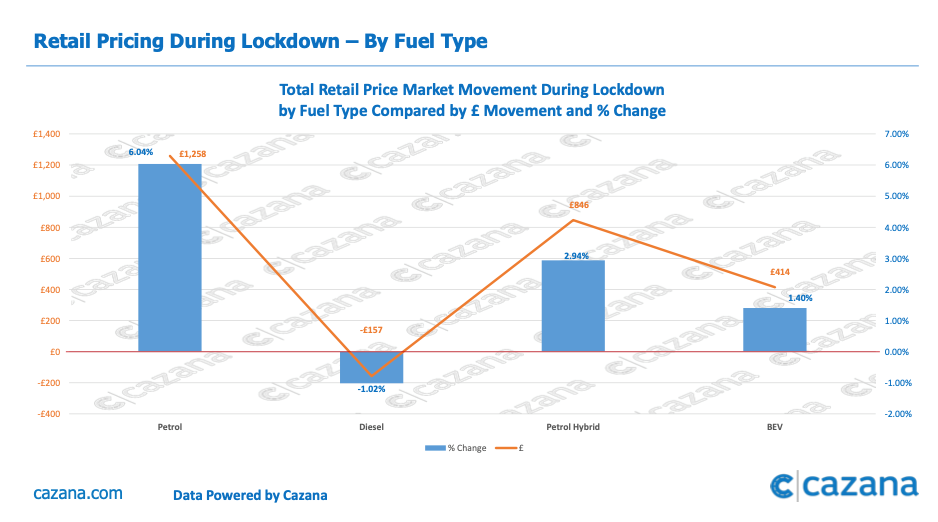 Age and mileage profile
Breaking the figures down by age and mileage show there have been slight price rises for pre-registered vehicles, ex-PCP stock, and part exchange stock. However, the biggest rise has actually been for old cars over 10 years old with a jump of 9.5%.
Pontin said: "One view is that you could see that it's fabulous that all old cars are going up in price, but if you correspond that with the average price you can see that while this encompasses all areas of the market, it has been some vehicles at the more expensive end of the market that have caused that shift.
"You could also look at the lockdown measures and perhaps see that more are looking for older vehicles they can purchase as a runaround if they're now avoiding public transport."
Ex-fleet four to six year old vehicles have seen a decline of 3.2% during lockdown with an average price of £11,590. This is sitting slightly lower than the part-exchange sector, but this is likely due to the higher mileages on these ex-fleet vehicles.
Pontin said: "It's important to see what's happened in relation to last year as well.
"There were some concerns that this lockdown period that retail prices would have moved in a completely different way to seasonal norms.
"The shape of the movements have been reasonably similar in their pattern. That's a good thing because despite all the factors that are infecting our economy, retail pricing has not had a significantly different path to the one we might have seen in a normal environment."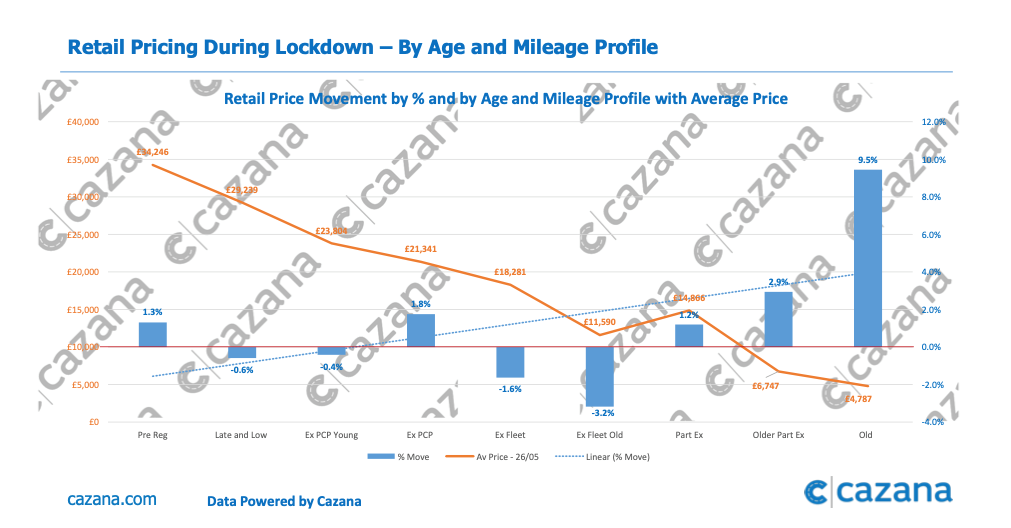 New listings and sales data as a % move week on week during lockdown
Sales data is where Cazana records removal of a vehicle from being advertised on a retailer's own website and this is then classed as a having been sold.
Pontin said: "There is little surprise to see that in the first weeks of March before the lockdown that things were stable.
"The really odd movement was in week 13 when lockdown was first announced. There was a 44% increase in vehicles that had been removed from dealer websites or sold as we would normally record it.
"It's difficult to determine whether they did sell in a last minute rush, or that was businesses removing stock due to dealerships closing.
"It should also be noted that because we are only looking at vehicles on dealers' own websites, the cost of advertising them online would not have been an influencing factor on removing them."
There was then a drop of 74% in new listings, which is no great surprise as the UK went fully into lockdown. That trend continued over the following weeks, up until week 18 with a jump up.
This corresponds with the confirmation that dealers could start to operate click and collect facilities as long as safe social distancing measures and personal protective equipment (PPE) was used.
Pontin said: "From that point onwards there has generally been an uplift in sales and new listings."
While there have been increases, new sales listings are still down by 88.2% when compared with the start of March before the lockdown.
The increase in volumes of new listings has been for part-exchange vehicles, closely followed by last and low mileage vehicles, as more customers came back to the market towards the end of May.
Pontin said: "It's been very flat for ex-fleet at 36 and 48 months."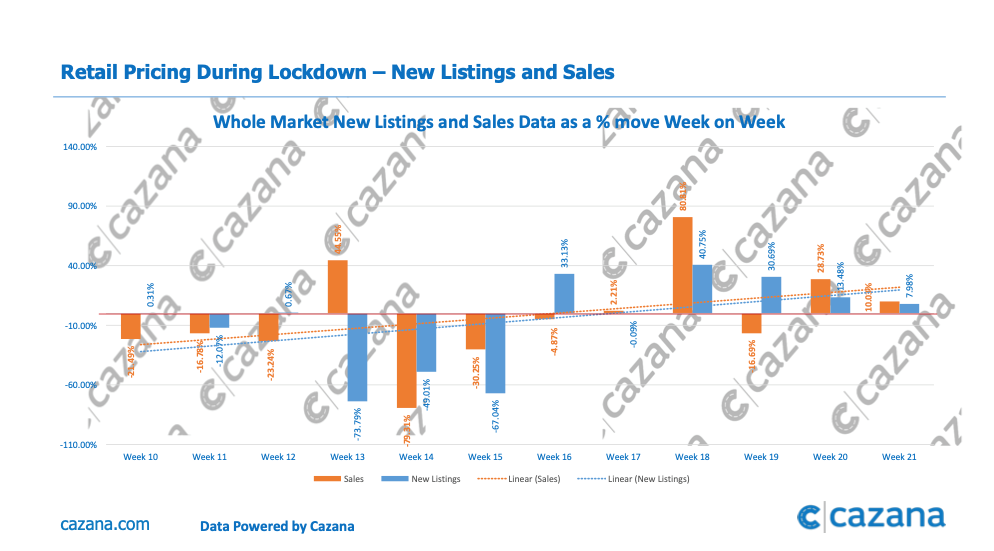 What's happened in the last week since showrooms have reopened?
Other than the luxury car market, which has seen a drop in prices of 3.8%, the other car segments have continued to remain stable since showrooms have reopened.
Pontin said: "There is perhaps some concern about the desirability of luxury vehicles at the moment as lockdown measures are starting to ease.
"It's going to be important to monitor these price movements by sector on a week by week basis going forward."
Diesel executive vehicles have dropped slightly by 0.63% in the last week up until June 2, while petrol hybrid luxury and sports vehicles have increased prices by 1.5% each.
The large BEV sector has seen the highest rise with a 6.3% increase in prices.
Pontin said: "Overall it's good to see that both in petrol hybrid and BEV, there appears to be some good consumer demand driven by the fact that the last 10 weeks there has been far less pollution.
"This has potentially focussed them on choosing vehicles that will be less damaging to the environment."
Now showroom doors have reopened between May 27 and June 2 there has been 25% improvement in sales and 12% improvement in the number of new listings.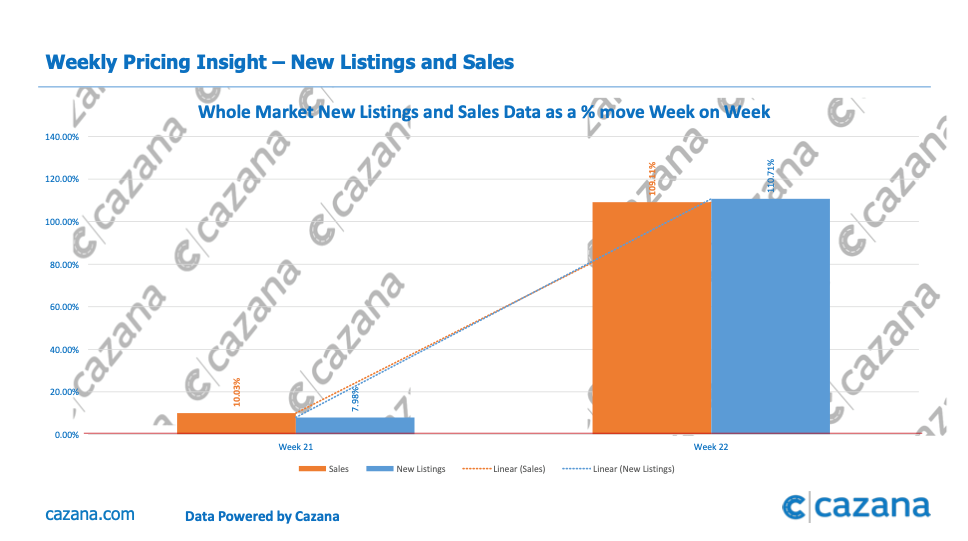 "It's important for the industry to hold firm..."
Pontin added: "Retail pricing is still moving, it is going up with some nuances between some sectors where there has been some volatility.
"What is clear is that pricing is not racing to the bottom. We've said that from the start of the lockdown and it's important the industry holds firm, whether that's from a remarketing or retail point of view.
"There is consumer demand there and therefore there is no need to push prices downwards.
"Dealers' sales are going to continually improve, particularly around showroom activity, but online sales will continue to be a significant part of their businesses going forward."