The adoption of an agency model for the car retail sector is now "not an option but an obligation", according to a report published by Capgemini today.
The 'Agency Sales Model: Accelerating the future of automotive sales' report concludes that the shift away from a traditional franchised car retail model will not only drive customer relationships for car manufacturers, but a 4% increase in revenues.
Capgemini said that the growth in adoption of electric vehicles (EV) and OEMs desire to emulate other sectors' direct relationships with customers would be a key driver of the shift.
And interviews with 50 retailers across the globe found that 80% already assumed that their future role would be carried out under and agency model, with a handling fee paid to complete sales.
Back in August Daksh Gupta, Marshall Motor Holdings chief executive, told AM that his business would "wholeheartedly embrace" a switch to an agency model for new car sales and thinks plans to introduce them have sped up due to COVID-19.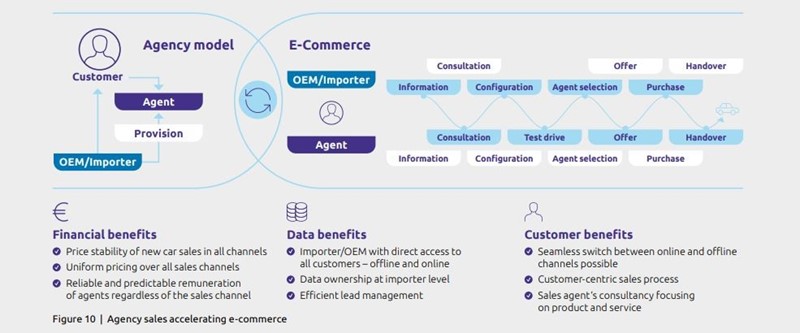 Opinions among UK car retailers appears to remain split over agency model OEM agreements, however, despite new players including Polestar and Tesla already operating the model, with more mainstream OEMs also experimenting with a shift away from the traditional franchised model.
'Benefits on all sides'
"Financial benefits on all sides" was stated among a list of positives laid out by the Capgemini report. Other were: enabling a seamless omnichannel experience for consumers; assuring dealers they will retain a central position within the sales process; increasing price transparency and consistency; eliminating intra-brand price competition between dealers (agents); and lowering consumers' attraction by third-party offers.
The report said: "This point of view clearly points out that moving to an B2C agency sales model is not an option but an obligation from the perspective of both customer centricity and financial profitability of up to 4% revenue increase in the long term.
"Even more, taking short- and long-term effects into account, transitioning to agency sales can pay off financially after four to five years.
"Therefore, it is now time to act for OEMs and to select a market as well as product to start the transformation journey.
"The new sales model is embracing the new 'phygital' world by connecting physical and digital experiences for consumers.
"This will create a competitive advantage upon which future success will depend."
Car buyer and dealer opinion
Capgemini surveyed 6,000 car buyers across different regions as part of its research.
In the UK it found that 69% of buyers expected to be able to buy their next car online, with 95% stating that they require a seamless, simple, and efficient ordering process.
Currently, 64% said they complained that they made an average 2.5 of visits to different dealers to ensure the best-possible price offer, with 78% or respondents stating that they would prefer fixed pricing both on- and off-line.
Only 23% of participants said that they would prefer purchasing a car without any dealer involvement, however.
In interviews aiming to gauge franchised retailers views of the current new car sales process, a total of 59% described the current model as "very outdated", with 37% stating it was "outdated". Only 2% described the process as "engaging".
Retailers said that a "fair and sustainable remuneration model" would have to be implemented to make any agency model approach successful.
The report said: "Fair remuneration for agents, replacing the traditional sales margin, is considered a central success factor at all levels – headquarters, NSCs, and dealers (94% of all dealers).
"Regardless of company size, dealers emphasize the need for all agents to receive the same fee and for individualized customer offers to be prevented.
"From the dealers' perspective, only a uniform remuneration model can ensure that satisfaction across dealerships will increase, and they are able to focus more on delivering appropriate customer-centricity across the board."
To download the full 'Agency Sales Model: Accelerating the future of automotive sales' report, click here.