The emergence of the more virulent strain of COVID-19 coronavirus and renewed lockdown restrictions made the average car retailers' bid to match their 2019 profits "unachievable" last year.
Despite earlier market analysis from ASE Global chairman Mike Jones indicating that UK car retailers had been "on-track to match their 2019 profitability despite the COVID crisis" during Q3, the new strain has dealt a severe blow to those hopes, he said in his latest profitability report.
He conceded: "With the emergence of the second wave and the associated national lockdowns, this is now unachievable, albeit retailers will achieve the considerable feat of staying profitable despite the pandemic.
In his latest monthly profitability report on the sector's key performance KPIs Jones revealed that car dealers were able to cut their November losses from £11,000 in 2019 to £8,000 in 2020 despite the COVID-19 lockdown of showrooms across the UK, however.
Jones said that retailers had been able to embrace fiscal assistance, including the Coronavirus Job Retention Scheme (CJRS) to mitigate the impact of the period, which is traditionally quiet for the trade.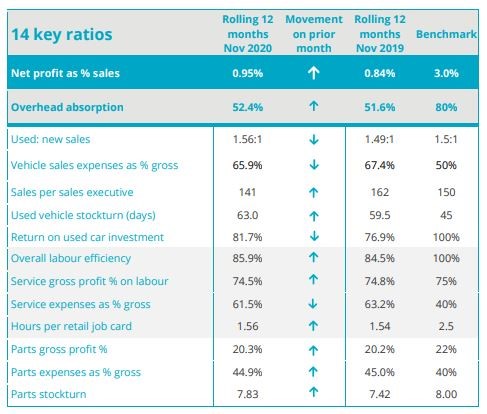 He also noted that many businesses had been able to "maintain some of the momentum from earlier months", with return on sales (RoS) at their highest level since Q2 2019.
In Wales car retailers were forced to cope with a fortnight-long "firebreak" closure of showrooms in October and, just days before that was set to end, England entered its 'Lockdown 2' phase of restrictions as part of a bid to combat rising infections.
Dealers revealedtheir hopes of maintaining trade during the challenging period in a COVID-19 Survey published in AM magazine.
November's COVID-impacted trading conditions were seen in an average retailer turnover down by 19% on the prior year, according to Jones' analysis of ASE's monthly KPIs, but he added: "The fact that retailers managed to contain costs to minimise losses shows the extent to which the furlough scheme has been vital to overall retailer profitability in 2020."
Jones said: "The reduction in losses and the fall in overall turnover has produced a rise in the rolling 12-month return on sales to 0.95%.
"This represents the highest level this ratio has been since Q2 2019. Whilst overall retailer profitability has fallen, the drop-off in turnover has been most severe in low margin activities producing this growth in return on sales."