UK car retailers were "within touching distance" of the profitability achieved in 2020 after delivering £110,000 profit-per-site in the key number plate change month of September, according to ASE.
In his latest sector profitability report ASE chairman Mike Jones said that the strong performance was driven by vehicle sales – despite a 4.4% decline in new car registrations reported by the Society of Motor Manufacturers and Traders (SMMT) – and had pushed the rolling 12 month return on sales KPI up to 0.74%.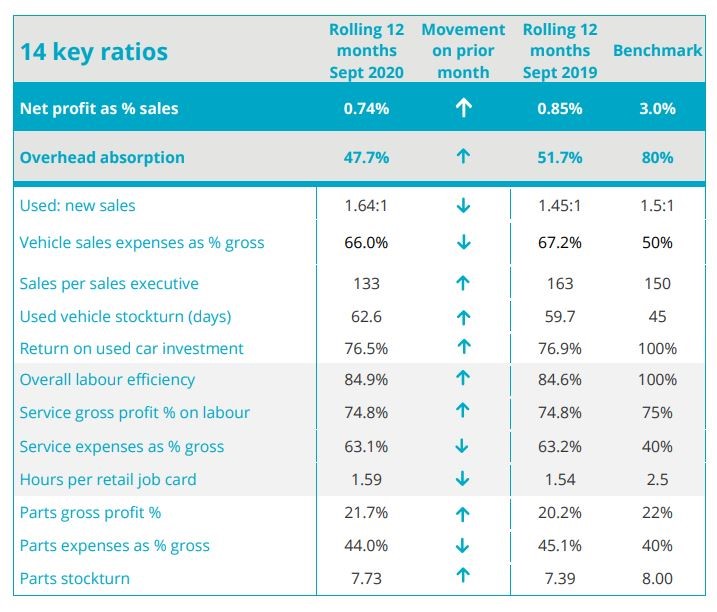 Jones said: "The average UK motor retailer built on the strong profitability generated since the lockdown lifting, generating record profits for the month of September of £110,000 per site.
"As in previous months this profit came from strong results across the dealership, with particular strength in vehicle sales."
He added: "Actual profitability levels per site are lower than last year, as a result of the lower overall turnover levels, but this remains a very creditable performance in a highly turbulent year."
Caution was urged following the roll out of the fortnight-long COVID-19 "firebreak", which brought about the closure of car showrooms in Wales, and this week's month-long 'Lockdown 2' in England, however.
Jones said that a return to lockdown would undoubtedly increase losses in Q4.
He said: "Whilst retailers are much better equipped to continue trading during lockdown as a result of digital advances made during 2020, the great momentum which retailers had built since June will be checked by Lockdown 2 leading to increased losses in November."
Over the next few days AM is urging car retailers to respond to a Quick-fire AM COVID-19 'Lockdown 2' in England car retail survey to gain feedback on business's response to the latest trading restrictions. Please take part by clicking here.
Among the highlights of the KPIs featured in ASE's monthly profitability report for September was car retailers' used car performance during the month.
Jones described used car sales as "the real shining star since the lockdown was lifted", adding: "Return on investment continued to climb and the overall return for the month of September, taken in isolation, was 105%."
Aftersales also performed well for retailers, showing KPI improvements across the board.
AM reported today that the MOT backlog created by the suspension of testing during H1 promised continued growth in aftersales revenues for franchised retailers as motorists make increased volumes of bookings.
Aftersales departments have been allowed to remain open, despite the more stringent COVID-19 mitigation measures in place in both Wales and England, alongside the ability to conduct click and collect car sales.