Aston Barclay managing director Martin Potter has said that the success of the remarketing provider's return to physical car auctions after 'Lockdown 3' could mean it has to "turn traders away".
Potter told AM that dealers and vendors had shown a desire to return to the auction halls in-person as COVID-19 trading restrictions were lifted last week, with numbers expected to double week-on-week.
Potter said that he fully expected a similar surge of interest to continue among car buyers keen to get back to car showrooms and used car supermarkets.
'Swinging the pendulum' back to physical sales
And he said that the trend would likely to "swing the pendulum" back in favour of traditional retailers, following competition from online start-ups including Cazoo, cinch and Carzam over the past 12 months.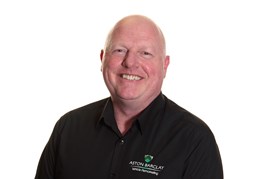 "Dealers have literally had people queuing up the road at times over the past fortnight," he said.
"They have learned how to maximise that lead enquiry and, add to that the ability to come to the site and see the car again, and they are back in a really strong position.
"It will be interesting to see how those online retailers feel the pressure and their level of demand starts to shrink now that customers have the choice of seeing a car in-person before committing to a purchase."
He added: "Never underestimate the power and entrepreneurism of retailers. They haven't lost sight of what customers actually want and that is to physically see that car they are thinking about buying."
Aston Barclay made the decision to return its physical sales offering after a survey of car and van retailers found that 84% wanted a return to halls.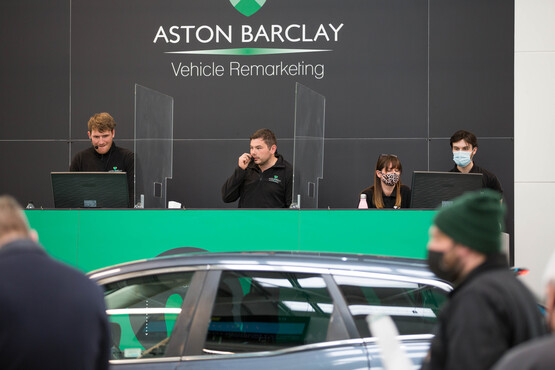 Potter described Aston Barclay as "going hell for leather, at 900 miles an hour" to try and satisfy the demand for used cars from retailers in recent weeks.
In recent months Aston Barclay has recruited 108 people – many in newly-created roles – as it looks to adapt to new ways of working as demand both online and offline starts to spike.
Potter said that 96 traders attended a sale at its Chelmsford site on Monday (in addition to 163 online) and suggested that numbers are likely to double at certain sites next week.
What's more, Aston Barclay found that an appetite to buy was stronger among those present in-person, with over 50% of cars sold across the group's auctions sold to traders who were at the sale.
Cautious return
"We might reach a point where we have to turn people away, and that would be down to our own personal restrictions that are more stringent than those applied by Public Health England," he said.
"Our sites have a lot of space and under official guidelines we could have 300 people at our Chelmsford site, but we all agree we would not feel comfortable with anything over about 150 and we would have to draw a line.
"The truth is that we don't want to ruin things for anyone. Just because COVID-19 trading restrictions are lifted doesn't mean that the virus has gone away. We will be very cautious."
Potter said that visitors to Aston Barclay's sites during the first fortnight of post-'Lockdown 3' trading had been very careful and respectful of the social distancing, one-way systems and sanitisation measures put in place at the group's auction sites.
Over 90% of auction attendees had pre-registered their attendance at sales, and this is something he is keen to maintain to a keep close check on numbers and avoid unnecessary queuing.
Aston Barclay is "pleased" with the stance taken by the UK's biggest remarketing operators as it looks to meet the demand of traders who want to return to auction halls.
"We're quite pleased at the approach taken by our two biggest competitors," he told AM.
"One is sitting on the fence and the other has said that physical sales may never come back. In the meantime, we're seeing that there is an appetite for physical sales."
Potter said that the current challenges of supply and demand would see used car values remain high until at least September.
While Potter suggested that part-exchange levels had returned to near-normal, ex-fleet and leasing stock remains reduced due to contract extensions triggered by the pandemic and new car lead times.
The commercial vehicle sector remains ever buoyant, meanwhile, amid a surge in home delivery demand.
Aston Barclay's CV sales in Leeds have been expanded into Donnington and Westbury and Potter said: "Vans have seen a 40% like-for-like increase in value in 12 months. It's been amazing."