MG, Hyundai and Kia continued to buck the UK's new car registrations decline with impressive year-on-year growth in October.
As the Society of Motor Manufacturers and Traders (SMMT) revealed new car registrations had declined by a further 24.6% last month its data showed that a handful of the sector's strongest performers had continued to grow, despite the market's numerous headwinds.
Hyundai grew its registrations by 34.5% (to 5,447) last month as sister brand Kia delivered a 22.1% increase (to 7,436) and the market's fastest-growing mainstream brand, MG, delivered a 23.6% rise (to 2,339).
Year-to-date Hyundai is now up by 39.3% (to 58,378), Kia by 28.9% (to 81,532) and MG 56.8% (to 25,290).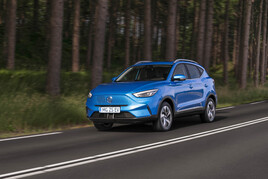 The franchised networks of both Hyundai and MG have seen significant changes during the past 12 months.
Hyundai has welcomed new franchisees including Rainworth Motor Group and Devonshire Motors in recent months, while Marshall Motor Group recently joined the franchise through the acquisition of Motorline – adding seven of the brand's dealerships to its portfolio.
Last month MG revealed that it was targeting network growth to 140 sites after Waylands Automotive officially added the MG Motor UK franchise to its dealership portfolio with the opening of a new showroom in Oxford.
Waylands is one of more than 35 new retail partners added to the MG network in 2021.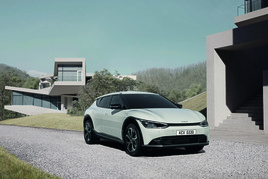 Kia, meanwhile, claimed the title of being the UK's biggest electric vehicle (EV) brand in October after its new EV6 crossover boosted volumes.
The Korean brand said 22.8% of its October registrations (1,699 units) were fully electric, with the EV6 accounting for 349 units in its first month in showrooms.
Paul Philpott, the president and chief executive of Kia UK, said: "With a strong bank of more than 1,600 pre-orders, we were particularly excited to deliver our first EV6 orders to UK customers in October – a milestone which enabled our dealers to boost our EV sales to new heights."
Among the UK's other registrations winners so far in 2021 are Volkswagen – up 6.3% to 130,338 registrations to take market share to 9.16 – along with Toyota (up 8.9%), Peugeot (8.9%), Volvo (8.4%) and Mazda (14.2%).
At the other end of the spectrum are: Ford, down 18.9% to 106,085; Renault, down 34.3% to 25,101; Mercedes-Benz, down 11% to 85,108; and Jaguar, down 19.7% to 16,195.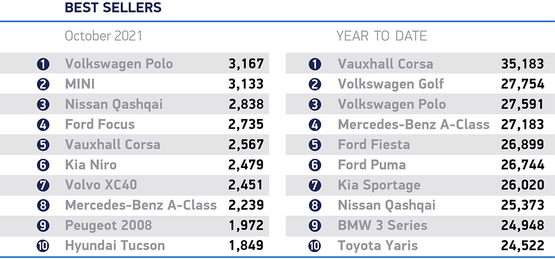 Vauxhall, which is beating the market with a decline of 2.5% YTD (to 78,340), meanwhile, is celebrating the success of its new Corsa.
The hatchback remained at the top of the sales charts after 10 months of the year, beating the Volkswagen Golf, Polo, Mercedes-Benz A-Class and Fiesta.
Over 35,000 Corsas have been registered so far in 2021 with the all-electric Corsa-e also one of the best-selling all-electric models in its segment.
Vauxhall's managing director, Paul Willcox, said: "As a British brand, we're delighted to see the Corsa as UK's best-selling new car and, with electric sales continuing to grow at a rapid pace, we're proud to see the Corsa-e and our electric line-up help drive Britain to a more sustainable motoring future."