The Finance and Leasing Association (FLA) has revised down its 2022 car finance market growth projections as the squeeze on household incomes and vehicle supply restrictions bite.
Despite a year so far free of the impact of COVID-19 dealership closures and treading restrictions, the FLA said that a "difficult" near-term economic outlook had caused it to reduce its value growth projection for the sector from 11% to 7%.
The move came as its latest data revealed that the consumer car finance market had seen new business volumes rise 24% year-on-year in February – leaving volumes up 34% year-to-date – as the value of new business grew by 39%.
However, that rate of growth is likely to falter after the Society of Motor Manufacturers and Traders (SMMT) last week reported that the UK's March new car registrations figures had been the month's worst since 1998.
Commenting on the consumer car finance market's performance in February, the FLA's director of research and chief economist, Geraldine Kilkelly, said: "The consumer car finance market's performance in February reflected pent-up consumer demand and the distorting effects from both the closure of showrooms last year during the third UK lockdown and record-high growth in used car prices.
"The near-term economic outlook remains difficult as consumers and businesses face higher prices and increased costs across the board.
"The impacts of the squeeze on household disposable incomes and ongoing vehicle and component supply issues are reflected in our latest research which suggests that consumer car finance new business by value will grow by 7% in 2022, revised down from a growth forecast of 11% made in the final quarter of 2021.
"As always, any customer worried about meeting payments should speak to their lender as soon as possible to find a solution."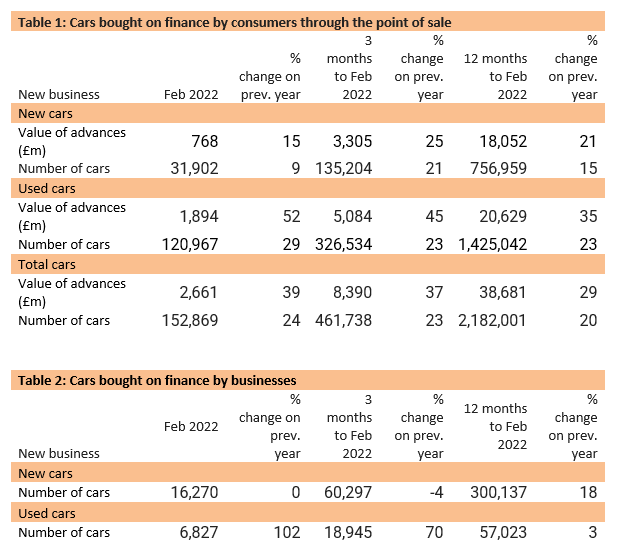 The FLA's February market data showed consumer new car finance up 15% by value and 9% by volume compared with the same month in 2021.
In the first two months of 2022, new business volumes in this market were 30% higher than in the same period in 2021.
The consumer used car finance market reported new business up 52% by value and 29% by volume in February compared with the same month in 2021, meanwhile, with new business volumes up 35% on the same period in 2021.