One-in-five new and used car buyers are putting off their next purchase as they feel the pinch of the cost of living crisis, eBay Motors Group research suggests.
Revealing the impact of the squeeze on household incomes in the face of rising food, fuel and energy costs which sent inflation soaring to 9% in the UK, the latest eBay Motors Group's ongoing Consumer Insight Panel polled over 3,000 in-market buyers to see how car buying decisions might be affected.
While 28% of respondents said rising energy bills would not influence their decision to buy a car, nearly a quarter (23%) said they would delay their next car purchase as a further 29% will now buy a cheaper car and 20% will buy a smaller one.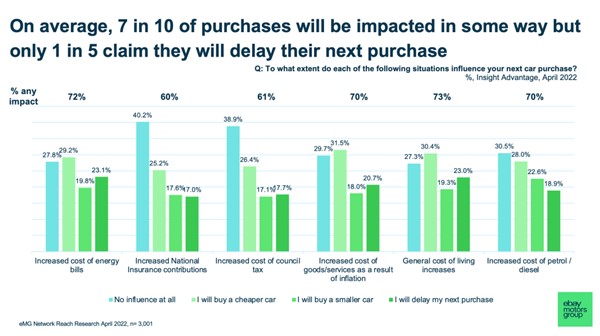 When asked how the general cost of living increases would affect their next car purchase, 23% said they would delay, with 30% stating they would buy a cheaper car and 19% now looking for a smaller car. Just over a quarter (27%) say it will not have any influence.
Dermot Kelleher, head of marketing and research at eBay Motors Group, said: "Our research shows how the cost of living crisis is having a real impact on the decisions made by a significant majority of car buyers.
"While for most of these buyers it will mean a pragmatic shift to cheaper and smaller cars, which in itself may be challenging as advertised prices for used cars are still tracking up 20% YoY, what is apparent is that one-in-five buyers will delay their next purchase."
Earlier this month Cox Automotive and Grant Thornton said the car retail sector should be braced for a prolonged period of uncertainty as OEMs impacted by Russia's war in Ukraine battle to deliver vehicle supplies and consumers "grapple with a cost-of-living crisis".
The team at eBay Motors, meanwhile, indicated that shifting economic forces were triggering an "inevitable" correction of used car values in the UK.
Kelleher said: "The challenge for dealers is to help buyers understand the overall affordability of their next purchase beyond the purchase price and how it can be balanced against their increased living costs.
"Dealers are ideally placed to advise on the lower running costs of some smaller and cheaper models, and this will be appreciated by customers reining in their budgets and making some tough choices."
Away from the issues being experienced by car buyers as a result of the cost of living crisis, AM recently reported that Sandicliffe Motors Group had handed its staff a special payment of £500 to help them cope with the rising costs of living.
"You don't have to go far to see something in the news about the rising costs, whether it be energy or food, so with this in mind we will be making a payment for an additional £500 to all employees," managing director Paul Woodhouse told AM.