Car manufacturers' supply issues are proving 'as damaging as COVID-19' to European car sales, according to Jato Dynamics.
While the new car registrations decline seen between March and June slowed in August Registrations through July were at similar level to those seen between January and June, July's volumes were similar to 2020 when hit pandemic hit the market.
European registrations totalled 866,038 units, down by 10% compared with the 966,453 units registered in the same month last year, leaving the market down 13% year-to-date at 6,398,609 units.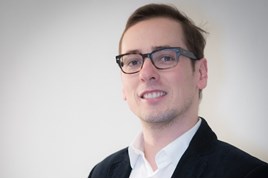 Jato Dynamics global analyst Felipe Munoz said: "The impact of the chip shortage and current lack of consumer confidence is proving to be just as damaging to the market as the arrival of COVID-19."
Jato revealed that Europe's car retail sector saw an acceleration in volumes for Chinese electric vehicle (EV) manufacturers during July.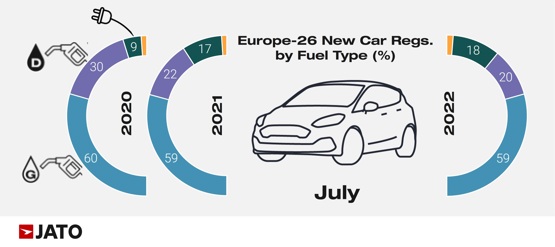 While alternative fuel vehicle (AFV) volumes declined by 2% year-on-year to 157,614 units due largely to a 22% dip in demand for plug-in hybrid electric vehicles (PHEV), pure EVs increased by 20% to 90,139 units.
Volkswagen Group led the EV market, accounting for almost 29% of total registrations with a volume increase of 17%, but Stellantis grew its EV volumes by 41% and Renault Group's registrations were up 66%.
China's OEMs (including MG, excluding Geely Group) posted a 72% increase, however, with MG leading the way with almost 3,000 units (up 56%).
Munoz said: "China's manufacturers are slowly climbing the rankings, becoming a credible alternative for those looking for an affordable and appealing electric car."
Last week MG commercial director Guy Pigakounis told AM that his brand's network would be capable of 90,000 registrations by the end of this year as it targeted further growth with a new crop of EVs set to follow-on from the new MG4 hatchback.

Volkswagen's T-Roc SUV led Europe's best-selling new car rankings in July after dselivering 73% growth in Italy and 87% growth in the UK.
It is only the second time since October 2021 that an SUV has led the market.
Elsewhere, Peugeot's 208 registrations performed well (up 51%) as Fiat's 5,000 registrations of its electrified Fiat 500 (up 37%) made it the best-selling pure electric car during the month.
Kia, meanwhile, entered the top 10 thanks to the latest version of the Sportage, seeing increased demand in Germany (up 108%) and France (up 122%).