Used car values continue to grow, though at a slower rate than previous months, according to the latest data from Auto Trader's Retail Price Index.
Prices are easing from a like-for-like increase of 2.8% year-on-year (YoY) in July to 1.5% in August and have also softened on a month-on-month (MoM) basis, albeit by just -0.1%.
However, Auto Trader said these headline figures mask an exceptionally nuanced market, with a significant disparity between age cohorts and fuel types, which is being driven by large variances in market dynamics.
Data indicates that older vehicles are outperforming the overall market and by some margin, recording strong levels of price growth with those aged between 10-15-years-old seeing values increase a massive 11% YoY this month, marking the highest rate of growth in eight months. With an average value of £6,629, these cars are currently worth more than ever before.
Auto Trader attributes this to very strong consumer appetite for older and more affordable vehicles with the current levels of demand growth for 10-15-year-old cars (up 10.9% YoY) outpacing levels of supply growth (up 7.9% YoY).
ICE prices remain stable as softening EV values fuel contraction in younger segments
Conversely, retail prices of younger models have dipped this month, with the average value (£36,862) of 'nearly new' models (those aged up to a year-old) contracting -0.5% YoY so far in August. Demand for this age group remains exceptionally strong, increasing 37.9% on August 2022, although Auto Trader said it is struggling to keep pace with the large volume of cars entering the market, which are up 53.2% over the same period - albeit still down circa 50% on pre-pandemic levels reflecting the gradual post-pandemic new car market recovery.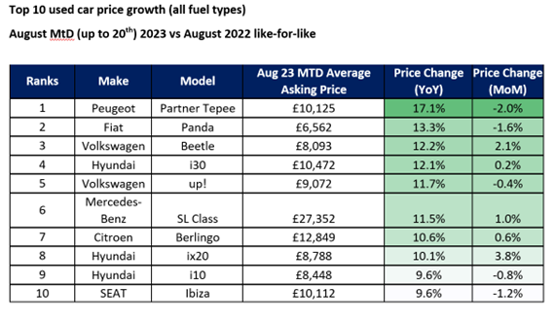 At an even more granular level, Auto Trader's data shows a notable disparity between fuel types within this age group, with potential price growth for 'nearly new' cars being further restrained by falling electric vehicle values. Indeed, the average retail price of a 'nearly new' EV (£39,371) has decreased -10.2% YoY this month. In contrast, its traditionally fuelled counterparts remain buoyant, with an up to one year-old petrol and diesel car increasing 0.8% and 5% respectively.
Falling used EV values are having a similar, if not more profound impact on used cars aged between 1-3-years-old, causing overall prices within this age group (£27,027) to contract -4.1% YoY. Auto Trader said that that is because despite the very robust levels of consumer appetite for 1-3-year-old electric cars (up 85.5% YoY), the rate of supply has surged (up 98% YoY) over recent months as the spate of brand-new EVs bought on finance three years ago re-enter the second-hand market. Due to this imbalance in supply and demand, the average value of a 1-3-year-old EV (£30,768) has fallen -26.4% YoY so far this month.
Average prices of internal combustion engine (ICE) vehicles in this age group are again, more buoyant, however they are stabilising, with petrol cars increasing by just 0.6% YoY this month, while average diesel prices remain comparatively flat at -0.1%, slowing from 1.7% and 1.3% in July respectively.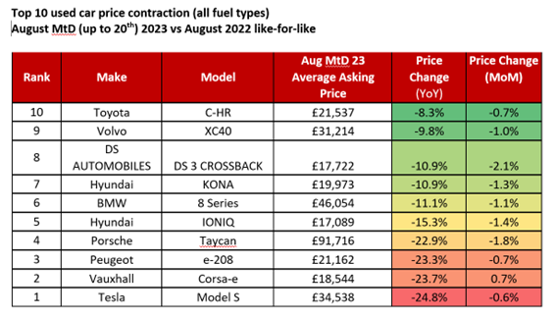 Richard Walker, Auto Trader's data and insights director, said: "The overall retail market is stable, but as our data illustrates, it's incredibly nuanced, with large differences in supply and demand across segments causing significant variations in pricing. With supply of younger cars improving, values of sub-five-year-old-cars are largely flat, whilst prices of older, and more supply constrained vehicles, continue to grow. Even at this granular level, there are major variances between fuel-types, which highlights just how critical it is for retailers to follow the data, and not the headlines to inform their pricing and sourcing strategies."
Used EV values record lowest monthly drop in 13 months, as demand reaches record levels
When Auto Trader looked at the used electric market more broadly, the current average price across all age groups is £35,297, which marks a month-on-month decline of just -0.3%, making it the lowest level of monthly contraction in 13 months. On a YoY basis, prices are currently down -21.6%, which is just a fraction lower than the -21.3% recorded in July.
The recent run of used EV price contraction, which began in January of this year, has been the result of a rapid increase in supply into the market. However, this is slowing; there are now only 12,000 second-hand EVs for sale each day on Auto Trader, down from over 18,000 in early March. Auto Trader said it is this easing, along with exceptionally strong consumer demand for used EVs on Auto Trader (representing a record share of advert views) which is helping to settle prices.
Walker continued: "Although electric values are still easing, context is important. The EV market's still an immature one, and what we've seen over recent months is a natural correction following a huge surge in stock. With supply beginning to soften and demand increasing with the help of very attractive savings for car buyers, we're seeing clear signs of prices stabilising. It means for retailers who follow the data, and source the right electric stock for their forecourt, there's some very strong profit potential."