The Toyota Corolla Touring Sports has received a rugged makeover with the addition of a new Trek trim level created in partnership with Trek bicycles.
Features a 20mm rise in ride height, specially-designed side cladding, front and rear scuff plates and unique 17-inch alloys the new version of the Derbyshire-built C-segment estate delivers a crossover twist for Corolla customers visiting Toyota franchised dealerships.
The new trim line of the British-built Toyota model - manufactured at the OEM's plant at Burnaston, Derbyshire - is already receiving a high-profile sporting marketing push after 16 Corolla Treks provided to the Trek-Segafredo World Tour cycling teams to campaign their race events.
The first public appearance of the Toyota Corolla Trek was during the "La Vuelta" race held from August 24 until September 15.
Available with the same choice of 1.8 and two-litre self-charging hybrid powertrains which now lie at the heart of the Japanese manufacturer's electrified range strategy, the model is more generally aimed at active families with outdoor lifestyles.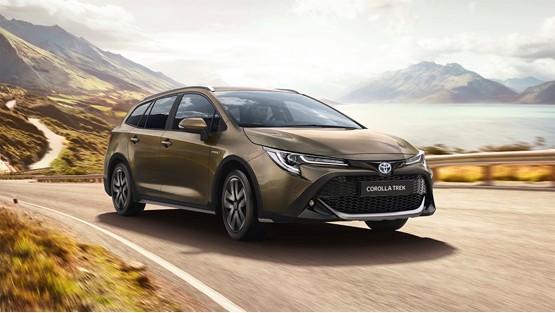 Among the defining features of the new Corolla Trek's cabin is upholstery in two-tone textile material, matching the decorative wood-finish elements of the dashboard.
A Trek logo is present in both the door steps and the tailgate.
Standard equipment includes a seven-inch colour TFT display in the instrument cluster and the latest version of Toyota Safety Sense, which includes a Pre-Collision Safety System with day-time cyclist detection both day and night-time pedestrian detection, full-range Adaptive Cruise Control, Lane Trace Assist, Traffic Sign Recognition and Intelligent Auto High Beam.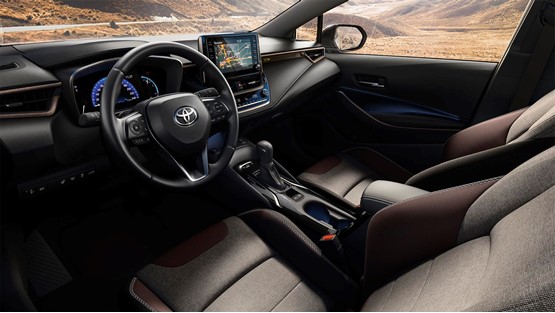 The Corolla Trek is also equipped also equipped with an eight-inch touchscreen infotainment system.
Pricing and full specification details have yet to be released for the Toyota Corolla Trek, but a spokesman for the brand told AM that order books are expected to open towards the end of October with customer deliveries expected to commence on January 1.
Trek-Segafredo runs both men and women's professional racing teams.
Trek-Segafredo Men campaign in the UCI WorldTour men's road cycling event and is registered in the US, with 24 cyclists of 15 nationalities competing worldwide from January to October and more than 250 days of races each season.
The Trek-Segafredo Women's team is the most recent addition to the UCI Women's WorldTour and features 13 cyclists from 10 different nations.