UK car dealers have joined 17,500 colleagues from across the globe in being part of a "Brand Experience New Volkswagen" congress in Wolfsburg.
The German car brand's franchisees from 50 countries will get an in-depth view of the new Golf, ID.3 electric vehicle (EV) and new brand design at the event, which is being held at the Autostadt until March 18.
The event showcased a new "modular" dealership design and also paves the way for the launch of the new digital sales model "Future Sales" in Europe at the beginning of April, the brand said.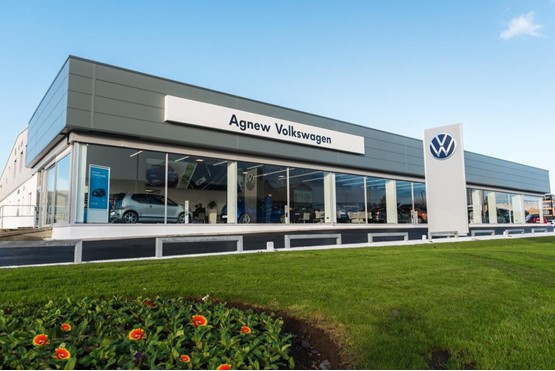 Volkswagen UK revealed Agnew Group's status as the first UK retailer to display the brand's new logo this week as part of an update of its Belfast dealership.
At the Wolfsburg-based congress event retailers were shown a showroom with the New Brand Design, however.
Located in a central event warehouse in Isenbüttel, the new showroom has been designed to be as modular, scalable and cost-effective as possible, the brand said.
In the development of the new showroom, feedback from dealers, network planners and customers from a variety of markets was analysed and integrated in the concept.
Offering brief comment on its new digital retail platform, a statement issued by Volkswagen said: "The objective is the digitalisation of sales for a seamless customer experience. In close cooperation with dealers, vehicles sales and customer support are to become more individual, more efficient and more convenient."
Volkswagen UK's franchised retail network has seen a series of disposals and acquisitions involving AM100 retail groups.
In early December AM reported that Inchcape was poised to sell two more of its Volkswagen car dealerships five months after its disposal of five car and van franchises – in Chelmsford, Colchester, Romford and Southend – to Group 1 Automotive.
And Marshall Motor Holdings completed the £22.3 million acquisition of eight Volkswagen Group franchised car dealerships from Jardine Motors on December 18, a week after AM exclusively reported the move.
Since then, Vertu Motors has completed the £8.8 million acquisition of four dealerships from Sytner Group, following Sytner's November move to cut its Volkswagen representation by a third with the sale of its Liverpool, Warrington, Stafford and Stoke-On-Trent locations to Johnsons Cars, ahead of the closure of its facility in Halifax.
Volkswagen's new congress event has been designed in order to allow retailers an opportunity to interact, ask questions and engage in discussions amongst themselves about the various workshops and innovations on display, the brand said in a statement.
Describing the aim of the gathering, Volkswagen sales board member Jürgen Stackmann said: "We want participants to experience the reorientation of the Volkswagen brand at its home in Wolfsburg."
He added: "We are pleased to be able to offer this mega-event for our dealers in Wolfsburg. Where can you provide a better experience of the reorientation of the Volkswagen brand than in its home city? This event and our new models are team achievements of which we are very proud.
"Over the next few weeks, we want to transfer this enthusiasm to our dealers and sales team members so that they can impart it to our customers."
Volkswagen's new event concept will see dealers visit a number of workshops as opposed to a single large conference.
Groups of 50 to 100 people will result in around 400 participants taking part in a total of 11 topic studios each day.
Among the focus areas featured in the various workshops will be: the "ID. Experience Studio"; a digital networking area focussing on Volkswagen's We Connect infotainment software; and a "Technology & Future Studio", where dealers will receive information on topics including powertrains, colour and wheel rim configuration possibilities.