Groupe Renault UK has completed a leadership reshuffle as part of its Renaulution strategy to "secure long-term plans for growth".
In a series of changes effective from today (April 1) Adam Wood becomes Dacia brand director, Louise O'Sullivan is appointed marketing director, former aftersales director Tim Marriott takes up the role of sales director and Mark Thomason is promoted to quality and services director, taking responsibility for customer experience and aftersales.
Former head of dealer network development and performance Mark Hawkins will be responsible for the fleet department as Mark Dickens assumes a new role of UK managing director for Elexent, a Groupe Renault-owned firm dedicated to providing companies with turnkey, tailor-made EV charging solutions.
Former Audi head of HR, Maxine Bonwick, meanwhile, joins as HR director.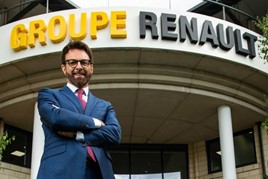 Groupe Renault UK managing director, Vincent Tourette, said: "As per the Renaultution strategy, our brands are now entering into a new phase which is designed to secure our long-term plans for growth and provide our customers with sustainable mobility solutions that are both innovative and affordable.
"These key personnel changes will help our UK operation to deliver what is expected of us in the future, with those appointed to the roles having vast automotive industry experience and many having already been with Groupe Renault UK for upwards of a decade.
"I am certain that all will be even more successful in their new roles within the organisation."
New Dacia brand director Adam Wood will be responsible for the brand's North Territory, including UK, Ireland, Malta, in his new role.
He moves to the position from the post of group marketing director having spent 15 years with Groupe Renault.
O'Sullivan, herself a former head of the Dacia UK brand, extends her 25-year Groupe Renault UK career with her appointment as marketing director.
The moves come as part of Groupe Renault's division into four separate business units (Renault, Dacia, Alpine and Mobilize) under the OEM's Renaultution strategy.
AM reported back in January that the new strategy would aim to halve the Renault, Dacia, Lada and Alpine carmakers' number of vehicle platforms while delivering 24 model launches by 2024.
Group chief executive, Luca de Meo, said that at least ten of the new models would be fully electric vehicles (EV).
Last month Renault sold its 1.5% share in Mercedes-Benz carmaker Daimler for 1.143 billion euros (£0.98bn) as its looks to reduce debt and leverage profits.
The news came just days after AM reported that Renault's UK franchised car dealerships are set to adopt the French carmaker's new logo in 2022 after it followed fellow OEMs into a 2D re-brand.