Renault UK has officially launched its online car sales platform in response to consumers' COVID-19 lockdown-prompted shift towards digital purchasing.
The French carmaker's UK managing director, Vincent Tourette, revealed in an AM manufacturer profile feature published this summer that the decision to follow budget sister brand Dacia into online sales had been made during the first coronavirus lockdown of car showrooms, between March and June.
Dacia Buy Online was launched in November 2018 and Tourette said that part of the delay to roll-out a similar platform for Renault had been the added complexity of its range.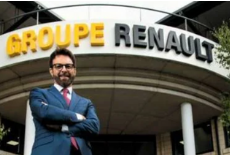 "It's a challenge due to the diversity of the Renault range, so it needs more than just fine-tuning and re-branding of the Dacia offering," he said.
"Dacia has been a success in terms of traffic, but we're not selling thousands of cars that way."
From this week Renault is giving its customers the option of buying a car online, however, in a move that coincides with England's 'Lockdown 2' coronavrirus mitigation measures.
The OEM said in a statement issued today (November 9) that customers who purchase a vehicle through the Renault Buy Online platform will be able to 'click & collect' their vehicle at their local Renault dealer or arrange home delivery.
The new platform allows the entire car sales process to be completed online, on any device, including full finance applications, the addition of service packages and part-exchanges, it said.
All-New Clio, New Zoe EV, the all-New Captur, Kadjar and the latest New Megane Hatch and Sport Tourer are all available via the new offering.
The launch of a complete online sales journey for Renault comes after April's introduction of the Renault Virtual Showroom.
Allowing online car buyers to explore Renault products via online via walkaround tours, the offering was hailed as a "huge success" by Tourette.
In the summer, he told AM that the platform had already reached capacity, adding that the brand was seeking new premises to allow space for more cars and more product "gurus", while considering a move from one-to-one to group demonstrations.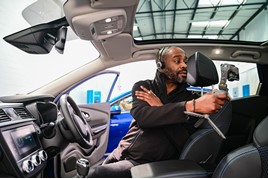 Tourette said the platform "contributes to the idea of giving more scale to dealers" because "people don't always want to drive to their local showroom".
Visitors to the Renault Virtual Showroom can now complete their purchase journey online via the new Renault Buy Online platform.
A full finance calculator is available to agree terms, enabling customers to adjust key parameters such as the deposit and monthly payments to suit their needs.
Online support is available through the whole process via a chat function, providing direct access to the customer services team.
Commenting on the official launch of the new platform m this week, Tourette said: "We see this being particularly useful to customers and dealers in the current climate, and our experience from Renault's sister brand's Dacia Buy Online, shows that there is a growing number of customers who wish to carry out much more of the buying experience online and so we expect Renault Buy Online to prove a useful complement to the existing physical experience."