Employees of Listers Group, RRG Group, Snows Motor Group and TrustFord have been presented with a series of awards as outstanding graduates of EMaC's inaugural Aftersales Academy programme.
The service plan specialist's managing director, John O'Donnell, and learning and development manager, Emma Sidley-Wiltshaw, presented awards to six recipients during yesterday's (June 26) proceedings in the Veuve champagne bar at The Cube, Birmingham.
Each of the winners excelled in their completion of the free-to-access course, which included workshops, webinars, and events with guest speakers.
"I'm absolutely blown away by how well the academy has been received and it's been great to see the winners here today," said O'Donnell.
"We launched the programme as part of a change of culture which we saw as moving us from the position of supplier to valued partner and the feedback and the testimonials received following the first intake of participants suggests that we've done a great job of that."
Representatives from participating franchised car retail groups Listers, RRG Group Snows and TrustFord all attended yesterday's awards event, which was hosted by AM's news and features editor, Tom Sharpe.
The full list of winners were:
Rising Star Award – Garry Weddell, Trustford
Above & Beyond Award – Sammy Innes, RRG Group
Aftersales Customer Excellence Award – Fiona Cutler, Listers Group
Big Impact Award – Lee Lomax, RRG Group
Training Excellence Award – Stephen Bates, TrustFord
Overall Outstanding Contribution Award – Richard Thomson, Listers Group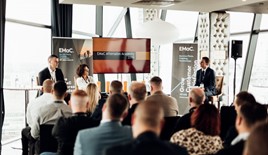 Sidley-Wiltshaw said that she had been "inspired" by the success of EMaC's first Aftersales Academy and was already looking forward to getting started with the next intake of candidates in January, 2020.
She said: "For me, the feedback we've had has proved that there is a demand for this kind of training from the retail groups and it's been a pleasure to help deliver that.
"There was a real desire to inject some of the more soft-touch sales techniques that are applied in the car sales side of the dealership into aftersales and I think we've done that to the benefit of all of those involved."