Auto Trader has vowed to repay the funding it accessed through the Government's Coronavirus Job Retention Scheme (CJRS) in its annual financial results for 2018/19.
Despite cutting its fees to retailers and board pay by 50% during the COVID-19 lockdown period – leading to anticipated losses of £7 million in April alone – the online marketing provider vowed to return the funding it received to support employee salaries in its results for the period to March 31, 2019.
"The government support was taken at a time when the Group faced great uncertainty, but as the crisis passes the Group will repay amounts claimed through the CJRS," the group confirmed.
Auto Trader said that no final dividends would be paid as a result of the impact of the COVID-19 crisis, but directors' salaries would return to normal levels in July, with the 25% of its workforce which had been furloughed having already retruned to work.
In its 2019/20 financial year, the business generated revenues of £368.9m - up 4% on the £355.1m announced in its 2019 financial results - and profit before tax rose 4% to £251.5m (2019: £242.2m).
This growth in profitability came despite a one-off £8.7m profit recognised on disposal of Smart Buying to its new Dealer Auction joint venture being included in its results in the prior year.
Operational performance
The average revenue generated per retailer forecourt each month during the period up to the end of March this year was up 6%, or £105, to £1,949 (2019: £1,844), with "growth from product and price offsetting the expected reduction in stock", according to Auto Trader.
However, physical car stock on the platform rose by 4% to 478,000 cars (2019: 461,000), with Auto Trader's new car listings contributing over 31,000 to that average (2019: 12,000).
Over 1,000 UK car retailers are now advertising new car stock on the platform, Auto Trader said.
The number of retailers now subscribing to either Auto Trader's Retail Accelerator (formerly i-Control) or Retail Check also rose to 3,600 (2019: 3,200) during the reported.
Despite the growth of emerging rival platforms including GarGurus and heycar into the classified advertising sector, Auto Trader said that the number of retailer forecourts represented on its platform had also grown by 1% in 2019/20 – increasing to 13,345 (2019: 13,240).
Auto Trader also said that its audience engagement remains strong, with cross platform visits per month up 3% to 50.8 million (2019: 49.1m) and share of time spent by consumers on automotive platforms up to over 75% resulting in a claim that it is now nine-times larger than its nearest competitor (2019: 5x larger).
Full page advert views per month decreased by 2% to 235 million (2019: 239m), however.
Results 'supassed by events'
Auto Trader chief executive, Nathan Coe, who took up his current role during the reported period, said: "We are pleased with our achievements in the past financial year, however we recognise these have been well and truly surpassed by the events of the past few months.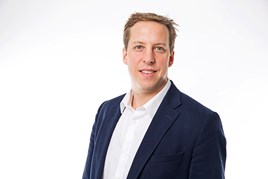 "Through this time, we have been absolutely committed to supporting our people and customers in the face of the most challenging conditions ever experienced by our company or industry.
"Since the early stages of the pandemic we have endeavoured to act decisively and responsibly to ensure we and our customers could emerge in as strong a position as possible when the crisis passes.
"We've been encouraged by the strong initial bounce back in used car demand, and whilst the short-term outlook remains uncertain, we believe the case for moving more of the car buying process online is stronger than ever. We are looking forward to making this a reality with our customers in the years ahead.
"We would like to take this opportunity to thank our people for their unwavering commitment and support, and our customers for their trust in us through these most trying of times."
Business developments
In October 2019, Auto Trader acquired KeeResources for consideration of £25.3m,giving it access to data that now underpins part of its Dealer Auction joint venture with Cox Automotive.
During the six month period post acquisition, KeeResources contributed £2.4m of revenue and £2.6m of costs, it said.
The business launched its new data tool, Market Insight, earlier than anticipated, in response to the COVID-19 crisis, enabling retailers to identify and adapt to market trends in supply, demand and pricing.
In addition, it created ways for retailers to advertise vehicles through the crisis with safety features, home delivery and live video flags.
Following year end, Auto Trader removed standard format display advertising from its search experience, making retailer adverts larger and driving improved response. Search on mobile devices was also enhanced, increasing the size of each retailer advert by 40%.
The "re-platforming and integration of the three component businesses" which comprise Dealer Auction was also completed in early 2020, moving on to Auto Trader's platform, it said.