As new vehicle sales decline, there is increasing urgency for dealers to find alternative revenue sources, with many looking to their aftersales departments.
Dealer management system (DMS) providers and supplier solutions are innovating in areas such as digital marketing and video to help retailers keep in touch with customers throughout the servicing process.
Neville Briggs, managing director of DMS provider Pinewood, said despite the increasing prevalence of electric vehicles and the reliability of modern cars reducing billable workshop hours, there are still plenty of opportunities for profit in the industry.
Briggs said dealers need to concentrate on striking while the iron is hot and authorise work while customers are in the workshop, rather than wait to follow up when they are away from the showroom.
In order to do that, vehicle checks need to be done accurately and efficiently.
Briggs said: "The best time to upsell is when the car is in the workshop, not when the customer has gone home and has the opportunity to shop around, or faces the prospect of having to revisit the dealership, which isn't efficient for anyone.
"Our most successful and profitable customers are already aware of this."
During a time of constant industry change, CDK Global believes that maximising aftersales is crucial for all dealerships.
Stuart Miles, CDK Global managing director UK and Ireland, said: "If contact with customers is not maintained throughout the car ownership lifecycle, retailers can miss out on vital after-care revenue streams and the possibility for repeat purchases."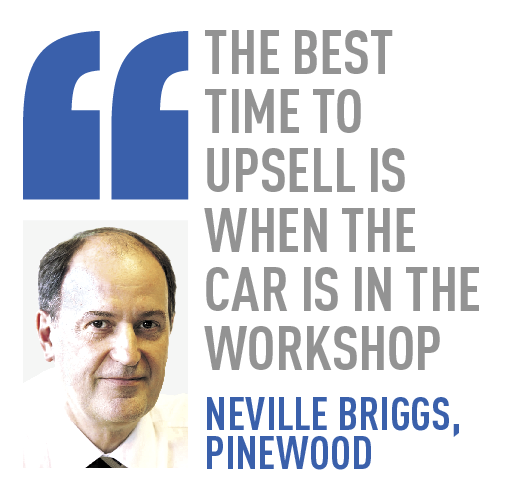 CDK Global said it offers dealers a suite of products they can personalise to help streamline processes. The company said it was essential for dealers to exceed customer expectations during the aftersales journey, to secure future business and revenue opportunities.
Jon Skinner, Gemini Systems director of business development, said the biggest challenge facing the aftersales industry right now is manufacturers looking to ramp up the number of information feeds dealers have going back to their franchise partners as vehicle connectivity starts to increase.
He said: "OEMs want more and more information from the workshop to show areas like the number of services, parts, profit per job.
"The OEMs want this to be much more digital and automated and that fits with the overall trend to move to paperless systems."
AutoVHC promoted Paul Muers to lead the company in July this year. He will be responsible for expanding autoVHC's offering in global markets and its position as a wider automotive management solution. Muers said: "The automotive sector is experiencing a lot of change at present, with new technology and service models all playing a role in reshaping customer expectations of how aftersales care is delivered in particular."
Aftersales industry developments
AutoVHC's electronic vehicle health check (eVHC) platform is set to include an SMS live chat functionality, which will allow service teams to engage quickly and directly with customers.
The company offers video as part of the eVHC process. It can show technicians highlighting required work as well as short animated clips explaining why repairs are needed. This content can be shared digitally with customers.
CDK Global and autoVHC have also partnered in the past 12 months to add autoVHC to the DMS. This allows dealers that use both systems to transfer data relating to jobs, parts, stocks, prices and more between the two platforms.
CDK Global's Connected Workshop offers automatic alerts to let customers know when to replace items such as new brake pads and to help them book their own appointments through their smartphone.
Using CDK Global's Service Online, customers can manage their own service bookings on dealer websites.
Miles said this puts the control in the hands of the customer and allows them to book anytime, anywhere.
The company's Mobile Service Advisor allows dealers to use their tablet to carry out reports and give customers a price for immediate approval. CDK's Mobile Service Technician also enables dealers to see the 10 most recent service history records for any vehicle, which, it says, helps to reduce paperwork.
Pinewood's app for sales and service, Host+, also incorporates video, and dealers can film an arrival video from a mobile device.
Briggs said doing this with the customer present provides more credibility than if the dealer were to contact the customer later in the day and gives them more time to consider proceeding with the additional work.
To provide transparency, dealers can send a booking confirmation to the customer, with a video link explaining the arrival and check-in process. Service advisers can be pre-allocated to an appointment, so they are ready to greet the customer and begin the VHC process.
Skinner said in the past 12 months Gemini Systems has been working with more used car supermarkets. It has also taken on a lot of work with the Ford Retail network and now works with 50% of that group.
Gemini Systems has a suite of aftersales-focused products that Skinner said dealers can use to help boost the department's capability to absorb the overheads of the business.
This includes electronic vehicle health checks eVHC, its digital service adviser and TechMate products, which all look to automate and take as many paper processes out of the aftersales department as possible.
Gemini has offered EVHCs by since 2010, but Skinner said the system has been updated with new features.
The latest addition to the system is the ability to add new job templates that go beyond franchise-specific requirements.
Skinner said: "Dealers were asking us for more options, as a franchise-specific check might be 50 items, but if you know you're doing a smaller check that's just 10 items or 20. We can now put that in place."
Gemini took on four new members of staff in the past year and is now up to a total of 30.
TechMate can be used remotely for mobile technicians and it functions over 4G to link with a dealer's DMS.
Skinner said: "The biggest growth from our products has been through video and using that to build trust with customers really helps with converting amber work.
"You can show customers things like worn brake pads, and that work that is required is all evidence-based."
Gemini is updating its workshop functionality to feature digital T-cards. The company has had feedback that workshops still liked using the paper-based T-card job tracking system and wanted something to replace it that was still visual.
The result is a digital T-card system, with a screen in the workshop on which technicians can drag and drop jobs in a much more visual way to give "an instant snapshot of what's going on in the workshop".
The new workshop features also include a system where administrators can better highlight work by job type – retail, internal or warranty. Skinner said this helps dealers better balance their workshops with more profitable work and to move jobs around based on that.
Gemini also offers its Campaign 365 product that lets dealers create custom marketing campaigns to boost calls to action for the aftersales department.
Skinner said: "Dealers will all do service and MOT campaigns, but they need to be looking at speaking with customers more regularly.
"Things like winter and spring health checks or summer promotions can all be custom-created and monitored through 365."