Online car sales platforms have enjoyed a stellar year, with an increasing number of customers switching to digital to find their next vehicle.
At the forefront has been Carwow, which in June appointed its first UK managing director, former Zoopla commercial director Athena Hubble.
Supporting her in her role will be Vaso Parisinou, formerly of Deliveroo, as chief people officer, and Charlotte Tice, Hearst's former head of marketing and client service, as head of media partnerships.
In a raft of other appointments, Hasan Nergiz was named director of OEM and Jon Davies head of OEM.
The online car retail platform has also launched new products, including, in February, an online tool to predict car costs in the event of a no-deal Brexit.
The company has increased its penetration among dealerships, with more than one third of the 4,500 UK dealers listed on the platform, while it's currently working with 19 of the top 20 groups in the AM100.
During a record-breaking eight months, in April it also announced that it had reached two million subscribers on its YouTube channel.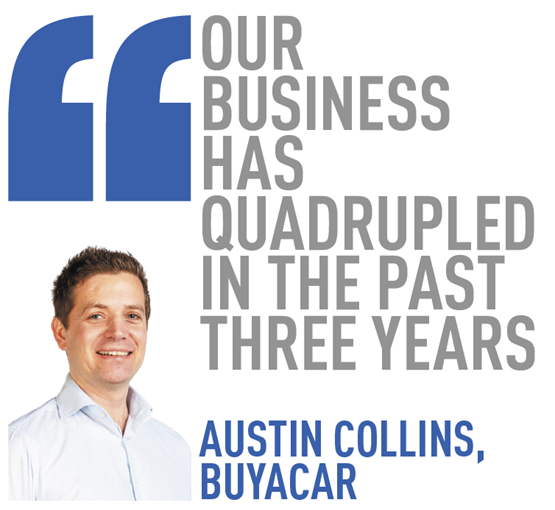 Nergiz said the company had invested heavily in its data insight and analytics team, which uses algorithms to monitor dealers for customer satisfaction and conversion rates, taking into account their star rating. Carwow's main launch, he said, was its transactional finance calculators, brought out in response to consumer concerns about obtaining car finance.
"According to our research, finance is the biggest pain point for consumers when looking to buy a car," he said. "That's why we released the trans-actional finance calculator to work out the monthly payment for their new vehicle."
Nergiz added that Carwow was also developing a part-exchange tool that enables the customer to use their existing vehicle as equity to put towards their next purchase. It is also actively seeking to form strategic partnerships with electric vehicle manufacturers and dealers to arrange test drives, as well as subscription model providers, and aftersales and accessories suppliers, he said.
Another success story has been BuyaCar, an online car supermarket, which has returned 100% year-on-year turnover growth over the past five years and is now aiming to bring the whole car-buying journey online. Last December, it launched a new facial recognition authentication technology that can be used via a customer's smartphone to prove their identify as part of the application process.
"Our business has quadrupled in the past three years, meaning that the processing of paper-based proof of identity was becoming a real bottleneck," said BuyaCar's managing director Austin Collins. "By automating the process, using facial recognition analysis, that problem has gone away, while also adding a valuable extra layer of protection from fraudulent applications."
In May, the company partnered with Natterbox to improve its customer service telephony, including its call routing and reporting features, using BuyaCar's existing Salesforce platform. Collins said BuyaCar is also looking to transfer the complete finance application process onto its website, including vulnerability, compliance and credit score checks through to being given a result, followed by the delivery of the vehicle.
To support this, Collins said the company has been continually recruiting customer service staff and putting them through a rigorous training and monitoring programme. It has also been constantly improving and refining its processes based on customer feedback, and making sure everything is properly documented and recorded, he said.
Collins said BuyaCar is now looking to tap into the traffic received by sister companies Auto Express and Carbuyer magazines. It will also be striving to add to the dealer groups it has partnered with to increase the choice of vehicles for its customers, he added.
Also making a big splash has been CarGurus, which ended 2018 with the acquisition of used car retail website PistonHeads. At the turn of the year, it launched its first UK TV advertising campaign to build awareness and expand its consumer audience, targeting prospective used car buyers.
In April, the company announced it had driven growth of up to 32% for car retailers through its new paid-for search offering after teaming up with Google. Paid Search helps to attract car buyers to dealers' websites by using machine learning to improve searchability results on Google.
"While digital advertising spend in the automotive industry has seen substantial growth over the past few years, the search side of the industry hadn't experienced much disruption, and we wanted to change that," said Sam Zales, president and chief operating officer at CarGurus. "Working closely with dealerships across the UK, we know what most dealers are looking for – impactful solutions that can drive high-intent car buyers to both their own websites and physical forecourts."
Auto Trader has also been active over the past 12-18 months, joining forces with Cox Automotive UK to bring together their used car stocking platforms under a re-launched Dealer Auction business, launching in the second half of this year.
The combined strength of the data and insight from Cox's Dealer Auction, an online auction of trade-in vehicles from UK franchise dealers, Manheim Online, its online remarketing services division, and Auto Trader's Smart Buying retailer-to-retailer platform, will be invaluable for the 13,000-plus dealers as well as the buyer bases already on the platforms.
On the back of a multi-million-pound advertising campaign showcasing the conflicting messages car buyers receive during their purchasing journey, Auto Trader has benefited from a 28% uplift in new visitors and 15% growth in overall visits, with 2.9 million unique buyer views of brand new vehicles in June and July alone.
On top of this, Volkswagen's No.1 franchise retailer has influenced 66% of its new car sales through Auto Trader's new car product, with 84% of sales within 50 miles of the dealership, greatly increasing the chance of repeat sales and aftersales.
"Our research shows two thirds of consumers are open to a new car when starting their buying journey, but the majority don't know what new cars are available," said Auto Trader's commercial director, Ian Plummer. "But, when they are given that information, they're also far more likely to visit and buy from their local retailer, knowing the right car is available and with a transparent view of what price they can expect to pay.
"As a result, we've refined our search experience so car buyers can now choose from new or used all in one place, and to ensure a fair marketplace which avoids any risk of a 'race-to-the-bottom'.Results display to the right retailer who has the right car for them, and most importantly, one that's available right now in their local area.
"By focusing on local consumers, this helps retailers retain more value through aftersales and repeat sales."
Another company undergoing big changes has been Motors.co.uk, which was acquired by Gumtree UK, part of eBay, in February. In the same month, the online used car classified business also partnered with what3words to provide car buyers with precise addresses so they can find showrooms more easily using three-word addresses.
"The combined inventory, customer relationships and traffic available on Gumtree UK, eBay Motors UK and Motors.co.uk, along with Motors.co.uk's cutting-edge tools and services, will benefit UK car dealers and bring buyers more choice and value," said Motors.co.uk's head of motors Phill Jones. "Our expanded automotive portfolio will allow us to offer dealers access to an extensive and broad range of buyers, across multiple digital touchpoints, through a single point of contact.
"We're currently focused on bringing this proposition to fruition by creating flexible commercial packages and seamless on-boarding, stock management and reporting experiences which will provide dealers with an exciting alternative to current UK motor offerings."
With the march towards digital, and ever-increasing pressure on brands to hit their targets, the need for progressive online sales platforms has never been greater. Dealers wanting to stay at the cutting edge will need to harness these technologies to maximise their profits. ALEX WRIGHT