Cazoo is set to acquire Drover, the UK's best-known car subscription platform, in a step set to boost Cazoo's growth in the UK and into Europe.
It's its second major acquisition since Cazoo launched to consumers 12 months ago, promising to make buying a used car as simple and as seamless as any other online transaction today.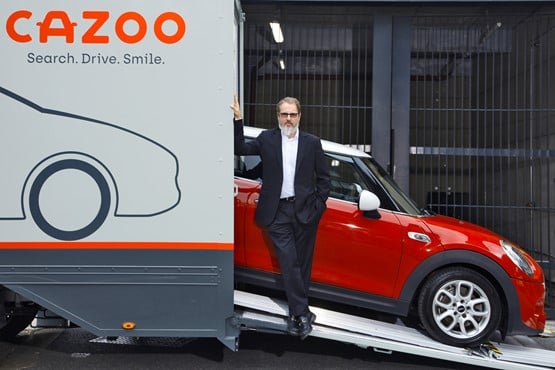 In July Cazoo, headed by dotcom entrepreneur Alex Chesterman OBE, who founded Zoopla and LoveFilm, bought the Imperial Cars used car supermarket chain which it has since developed into its car distribution and customer centre network, so that it can now offer customer collection as well as delivery to their homes.
Drover, founded in 2016 by another internet entrepreneur, Felix Leuschner, provides an alternative to car ownership through a subscription, where customers pay a single, monthly fee which covers everything except the fuel and motor insurance.
Chesterman (pictured above) said: "The acquisition of Drover will enable Cazoo to rapidly expand into car subscriptions and give our customers the option of purchasing their next car outright, financing it over a multi-year period or subscribing for a shorter, more flexible period.
"I am looking forward to welcoming Felix and his team to Cazoo and continuing to deliver the most innovative and best options for consumers across the UK looking for their next car."
Drover has a team of more than 100 people across London, Lisbon, Paris and Bucharest, and having recently launched subscriptions in France it is hoped to give Cazoo a launchpad for European expansion.
"Already hailed as the Amazon of cars in the UK, Cazoo had planned to launch its own subscription service in late 2021 and this acquisition will now accelerate its plans in the fast-growing Cars-as-a-Service (CaaS) market as it seeks to extend its offering to also become the Netflix of cars," said a Cazoo spokesman.
Felix Leuschner, Drover's chief executive, said: "I am very proud of what we have achieved with Drover in such short time. We have built a great team and developed a sizeable and loyal subscriber base with strong revenues.
"Alex and the team at Cazoo have a very clear strategy and vision and I am very much looking forward to accelerating the growth of car subscriptions as part of Cazoo and to continuing to develop the business beyond the UK."
Last month Cazoo announced it had delivered its 10,000th car sale, generating more than £150 million in revenues in its first year. It now has a team of more than 800 people and a market valuation of more than £2bn.
Since launch Cazoo has invested heavily in building its brand, with TV advertising and sports sponsorships, including Premier League football clubs Everton FC and Aston Villa.
Jaguar, Land Rover, Citroen, DS, Peugeot, Volkswagen and Lexus have all launched Drover subscription packages.