Lexus UK's franchised retail network has taken the Japanese premium car brand to the top of a What Car? ranking of the UK's top car service and maintenance providers.
But while the 94.1% satisfaction score attracted by the brand's franchisees were cause for celebration, the feedback from 18,000 UK motorists about the aftersales care they had received showed that many rated independent providers more highly than their main retailers.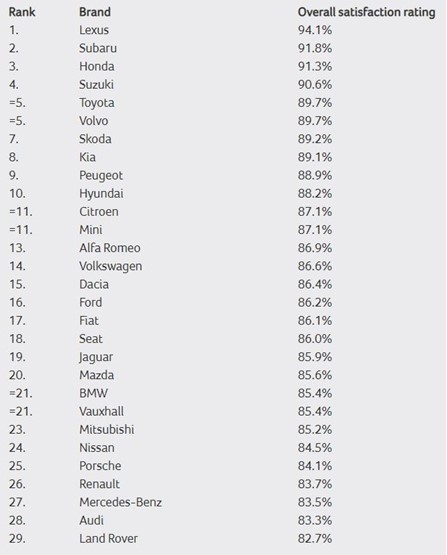 Japanese manufacturers occupied the top five of positions for franchised dealers in the annual What Car? customer survey, with Subaru, Honda, Suzuki and Toyota joining Lexus at the top of the table.
The brands' franchised dealers working on cars up to 20-years-old attracted praise as customers ranked them on the quality of their work, perceived value for money and friendliness.
While Japanese brands won the plaudits, however, luxury brands including Audi, Mercedes, and Land Rover were ranked at the bottom of the table with scores more than 10% lower than Lexus, with owners often rating their value for money low.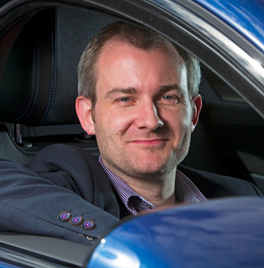 What Car? editor, Steve Huntingford, said: "With the lockdown starting to lift, many drivers will need to have their car serviced or checked by professional technicians.
"Our research shows which brands are seen to offer the best satisfaction and value for money.
"With the top-five places in our ratings occupied by Japanese brands, it's clear these companies really appreciate the difference good customer service can make.
"On this evidence, owning a car from a premium brand is no guarantee of top-level service, with the bottom three places in our chart occupied by premium franchises."
The research compiled by What Car? revealed a trend for consumers rating independent aftersales providers higher than their franchised counterparts.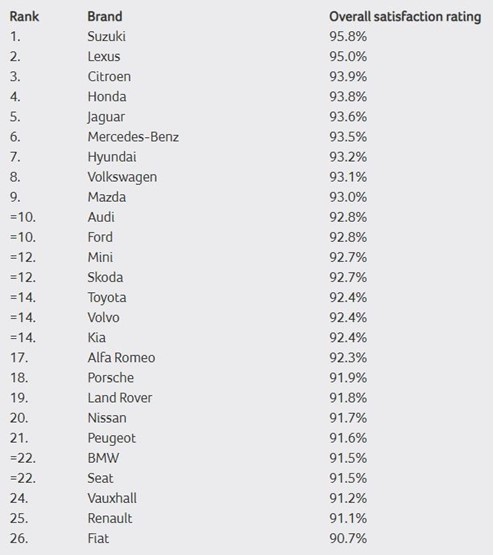 Rating along the same lines – by manufacturer – the ratings for independents across the top ten ranged from 95.8% to 92.8%, compared to 94.1% to 93% for franchisees.
The scoring pattern appeared to identify a trend for the owners of premium European-built cars moving away from official retailers in the search of reduced costs, with independents delaing with Jaguar, Mercedes-Benz and Audi vehicles all making the top ten of the independent rankings.
Suzuki independent dealers were found to offer the best overall service, however, with a satisfaction score of 95.8%.
Huntingford said: "If your brand's official service department is at the bottom of the chart, you might be happier switching to an independent service agent but it's not guaranteed – so motorists need to do their research and be prepared to vote with their feet and take their custom elsewhere if they're unhappy with the service they receive."