Park's Motor Group had helped to expand the Automobili Lamborghini UK dealership network with the opening of a new showroom in Leeds.
The Scottish AM100 retail group officially opened the doors at its second Leeds supercar showroom of 2019 – it opened its new McLaren Automotive franchise last month – to take the Italian carmaker's UK representation to 11 locations.
Park's will look to grow the success with supercars with the opening of its first Lamborghini franchise.
Earlier this year the group's McLaren Glasgow facility was named the British brand's European Retailer of the Year for the third time in four years.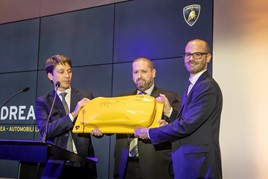 Andrea Baldi, the chief executive of Automobili Lamborghini EMEA Region, together with Park's Director Ross Park, welcomed more than 200 guests to an inauguration ceremony last week where the latest Lamborghini models were presented, including the new Huracán EVO coupé and Spyder.
Baldi said: "We are very pleased to officially open our new Leeds dealership, and welcome Park's Motor Group to the Lamborghini family.
"There has never been a more exciting time for the Lamborghini marque and our growing number of owners, with an exceptional three-strong model range and Lamborghini's continuing tradition of ground-breaking achievements in design, technology and performance.
"Complementing our production cars and limited edition series is the broader Lamborghini world, comprised of exclusive events, exciting exploration of art, culture, heritage and the best of 'Made in Italy', and we look forward to welcoming clients from throughout Yorkshire and the northeast to these experiences."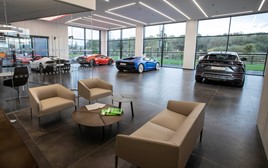 Ross Park said: "We are delighted to be appointed to the Lamborghini franchise and to open this new Leeds location.
"Park's Motor Group has a stated commitment to growth through providing the best possible service to our clients, which reflects the demands of Lamborghini and its discerning clientele.
"The investment made in this new showroom and an expert team demonstrates our commitment and enthusiasm for playing a significant role in Lamborghini's future success in the region."
Automobili Lamborghini delivered a record 4,553 vehicles globally in the first six months of 2019 with growth largely driven by the Urus SUV.
Speaking to AM at the 2018 Geneva Motor Show Lamborghini's chief commercial officer and member of the board of management at Automobili Lamborghini, Federico Foschini, said: "With the arrival of the Urus the business case for retailers is more and more profitable.
"It's clear that with our existing super sport range and the addition of a super sport SUV we are facilitating investment from retailers that are keen to invest in us."