Optimum Vehicles' SsangYong York franchise has backed horse racing fans at Wetherby Racecourse as potential new customers with a new sponsorship deal for the Yorkshire sports venue.
The Korean car brand's York franchise – based in a 15-car former Land Rover showroom facility on the city's A64 dual carriageway – will provide some Korean hosepower to the sports venue with the supply of vehicles to transport the official race starters to the start of each race, as well as providing the support vehicles that carry doctors, throughout 2020.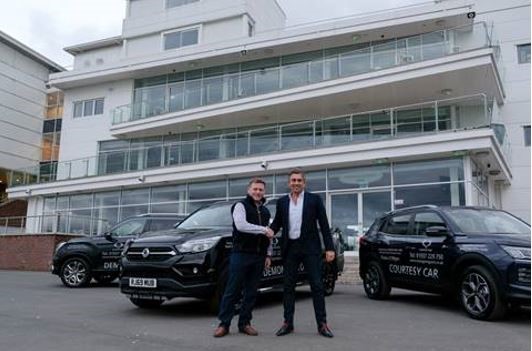 Paul Sanderson, managing director at SsangYong York, said that he was delighted to realise the opportunity to grow awareness of the brand at racecourse, which was recently named amongst the top 11 racecourses in Great Britain for race day experience by LiveTourism.
Sanderson said: "Brand awareness is at the heart of horse racing's appeal, where races command TV coverage and there are a number of race days featured on free-to-air coverage in Britain.
"We want SsangYong to be at the heart of Wetherby races, it's about building a relationship between two businesses, utilising a wealth of experience and ensuring our brand is at the forefront of people's hearts and minds in our local area."
Ssangyong's seven-seat Rexton SUV will be among the vehicles used by Wetherby racecourse, with the new Korando SUV also set to take centre stage at events.
Wetherby hosts jump racing between October and April and flat races during May and June.
Jonjo Sanderson, chief executive and clerk of the course, said, "We are thrilled to be partnering with SsangYong York, its support with vehicles is vital to the racing operation, and we are excited to be working with the SsangYong team moving forwards. The vehicles all look extremely smart too.