Inchcape reported a 1.3% increase in turnover and a 256% increase in its profit before tax in its full-year financial results for 2019.
Revenues at the global operation rose to £9.38 billion as PBT of £402 million during the period reflected the gains made by the car retail and vehicle distribution business's recent disposals and 2018 impairment charges.
Before exceptional items, Inchcape's pre-tax profit was down 6.9% on its 2018 results to £326.3m (£350.6m), however.
Commenting on today's 2019 financial results, outgoing Inchcape chief executive Stefan Bomhard, who will leave the business on June 30, said: "Whilst we continued to experience a range of short-term headwinds and market fluctuations, the story of 2019 was really about the actions taken to position the business for growth.
"It is my pleasure to present this review of 2019, a year in which we continued to deliver significant progress towards achieving our strategic objective of transforming the Group around our proven distribution model."
In total, Inchcape's group revenue of £9.4 bn (2018: £9.3 bn) including £5bn from its global distribution businesses, while group profit before tax (pre exceptionals) was £326.3m (2018: £350.6m), with distribution accounting for 91% of trading profits.
Inchcape's revenues for its UK retail operations declined 2.9% from £2.83bn to £2.89bn.
In total, its UK and Europe retail operations showed a revenue decline of 1.6% year-on-year to £3bn (2018: £3.05bn) and a trading profit decline of 0.6% to £17.5m (2018: £17.7m).
The group claimed that its "revenue grew 1% when excluding the 2019 impact of the announced disposals", however, adding: "The stabilisation of profit was pleasing considering the declines experienced over 2018 and amidst continuing UK market pressures".
Inchcape's results statement said that its actions in the UK market during 2019 had been centred on "optimising our portfolio of Retail sites where we were less able to leverage costs efficiently through a local scale presence".
The result was its disposal of seven sites to Group 1 Automotive and Motorline for a combined sum of £21 million in August last year and Inchcape Fleet Solutions (IFS) to its OEM partner, Toyota.
In January, following the end of the reported period, Citygate Automotive also confirmed its acquisition of Inchcape Retail's Volkswagen dealerships in West London and Twickenham – six weeks after AM reported on the impending deal.
In all Inchcape generated free cash flow of £212.9m in its 2019 financial year (2018: £278.9m) after the acquisition of businesses in the year as well as disposal proceeds relating to disposals in China, Australia and the UK, the payment of the final dividend for 2018 and £100m of share buybacks.
The Group now has a net debt of £249.9m (2018: £445.9m) alongside net funds, excluding lease liabilities, of £102.9m (2018: £14.5m).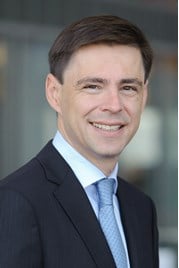 Giving his outlook for the year ahead, Bomhard said: "While 2020 is expected to be challenging, a continued focus on improving operations for the medium-term and enhancing the global footprint through the Ignite strategy, along with ongoing cost controls, will ensure further meaningful strategic progress.
"I am confident that when markets improve we will see Inchcape delivering on its real potential for sustainable profitable growth."
Thanking his board and his colleagues ahead of his summer departure from the business, Bomhard added: "This is my last statement as Group CEO. It has been a privilege to lead such a high-quality organisation as Inchcape in this exciting and dynamic sector.
"I would like to offer my sincere thanks to the many industry-leading vehicle manufacturer brands with whom Inchcape has built strong partnerships based on Trust, the central tenet of the Ignite strategy."