Business leaders from the car retail sector have been taking to email and social media to reassure their members of staff and customers of their actions amid the COVID-19 coronavirus outbreak.
Hendy Group chief executive, Paul Hendy, took to Twitter to reach out to the group's "valued customers" and the communities it serves to offer help and reassurance in a video presentation posted yesterday (March 18).
While Hendy asked customers not to be offended by the AM100 business's decision to cease all handshakes, he said that it was "business as usual".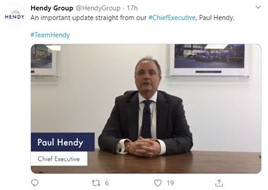 He highlighted the efforts that it was taking to ensure the health of its staff and customers and the role that online platforms, video vehicle tours and delivery and collection services would play for the business in the weeks and months ahead.
Despite the precautions, Hendy also said that he and the business were ready to play a vital role in supporting local community members as and when they could.
He said: "During this difficult time we do not underestimate the important role that we have to play within our local community in supporting those around us who may be vulnerable.
"If you believe that we can support you or someone you know at this time, please don't hesitate to reach out."
Yesterday (March 18) AM reported on Progress Group managing director Terence Byrne's offer of free 'clean air' air conditioning services for customers over 70 as he attempted to help vulnerable members of his local community.
Byrne, boss of the group which operates Suzuki franchises in Milton Keynes and Kettering, said: "Air conditioning units and filters can be rife with bacteria if not properly maintained," he said. "If we can improve the quality of air that our older customers are breathing right now it just might help to make a difference."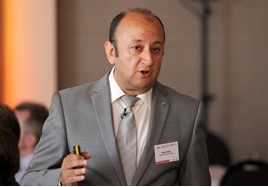 Marshall Motor Holdings chief executive, Daksh Gupta, has emailed his PLC operation's 4,000 employees to reassure them of the efforts that are being made in order to maintain their operations, while keeping staff and customers safe.
Gupta said that rigorous hygiene protocols had been put in place, which included the through cleaning of vehicles in for service or repair work at its aftersales facilities.
Like Hendy, Gupta said that test drives could still be facilitated from customer's home, meanwhile, and he urged employees to consider the use of video to offer customers remote sales and aftersales guidance.
In his email, Gupta told Marshall employees: "With over 110 years of history, at Marshall we are determined to ensure that in these uncertain times, we continue to provide our customers with the exemplary levels of service they have come to expect whilst responding appropriately to the evolving situation.
"We are continuing to monitor the situation closely and will continue to evolve our plans as the situation develops.
"Most importantly, I wish all our customers, colleagues and their families well. We are all in this together and we will get through it together."
Earlier this month Marshall boss, Gupta, said that he and the Marshall board were "monitoring the potential impact of COVID-19 and is considering contingency plans in the event it starts to impact our dealerships" in an annual financial results statement covering the period to December 31, 2019.
The results detailed a fifth consecutive year of turnover growth since the group's IPO, its revenues having risen 4.1% to £2.28 billion in the group's 2019 annual financial results.
On a like-for-like basis the AM100 car retail group's revenues rose to 2.2% to £2.21bn as like-for-like profit before tax declined 10.8% to £22.1m (2018: £24.7m), however, in a year that saw the opening of 20 new retail businesses and multiple disposals for the business.